There's no place like home to relax and entertain. It's easy to create the perfect space for ourselves in which to do this, but what about your male counterpart? Likely, his idea of a comfy, interesting, and safe place is much different than yours. Maybe not, but we'll go with that theory for this post. It's true, he might be secretly longing for the perfect man cave, where he can be alone, rest, or hang with some buddies. Are your wheels turning yet?
Oh, come on, wouldn't you love to surprise your partner with the perfect man cave?
Find the Perfect Space
The ultimate man cave might not be suitable for just any space of your home, so it's important to think outside the box and get creative. If your man is a motorcycle and car enthusiast, a garage man cave might be the perfect solution. The truth is if he loves his vehicles, he probably has already found or created a place to care for and work on them. 
Though he might find solace in the garage, he might also desire a space to comfortably escape the hustle and bustle of everyday life. This special testosterone-infused spot can be in a basement, attic, extra bedroom, or even a converted porch. I've even seen guys transform sheds into tiny male wonderlands (the male counterpart of the she-shed)! Talk to him about what he wants and needs to serve his manly space dreams. Well, unless you want to get it done while he is at work or on a business trip so you can surprise him. In this case, you will have to pull from your knowing and intuition.
Add the Best Features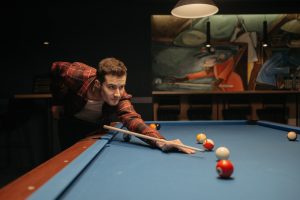 Some of the essential features of the ultimate man cave are pretty obvious, but you need to think about your man's personality, hobbies, and what makes him comfortable. Remember, men are different from us. They need to feel connected to their sacred space, as though it's an extension of them. Think like a man for this, ladies! And, it's called a cave for a reason. So, here are some features to add to your surprise man cave!
Adjustable warm lighting

Task lighting for hobbies or small projects

A comfortable place to sit (think recliner or man-sized couch)

A big-screen TV 

A bar stocked with his favorite adult beverages (don't forget a bottle of his top-shelf favorite)
Gaming system
Game table
Pool table/ping pong table/foosball
Make It an Entertaining Hot Spot
Your man's cave needs to be a place where he can entertain his friends separately from you. Yes, I did just say that. Ladies, they need time to themselves just like we do! Whether he wants to host a party for a big game or have a drink with a friend, his space needs everything to make his guests feel comfortable. Who knows, he might even invite you over for a drink, cigar, or a little sexy time!
Give the space and especially the bar area a theme that reflects who he is. Fill it up with the works like a beer/wine cooler, beer tap,  quality hard liquor selection, mixing tools, and glasses. Additionally, every man cave must have a "cigar bar" with the best cigars around! Don't forget the ashtrays and lighters!
I hope you got some ideas to create a surprise man cave for your honey. Give it some thought and do what you can to simply give him a well-deserved space of his own. Trust me, he will appreciate it!