It seems that Valerie Bertinelli has started a Hollywood trend of posing in a bikini on a national magazine cover after losing weight.  This morning, there she was on the net, Melissa Joan Hart (Sabrina the Teenage Witch) with a full body photo of her newly sculpted figure on the cover of People magazine. Though others have bared their famous bods for the press, (remember Demi Moore?) I don't remember the impact being quite the same in their celebrity world or on our ordinary woman and mom planet.  In late March, when I saw what Valerie had accomplished in a relatively short time, I was genuinely inspired to get off my rear and do something about my own mediocre 40-something body.  Adding Melissa's story to the mix, I'm sold on the possibility of looking my best again.  I just might get over my fear of bathing suits after all.
I think women need to realize that just because a celebrity has money and fitness gurus on them to get it done, it doesn't mean that they don't work for the results.   "I realized I didn't have to be heavy just because I have kids," Melissa said in her recent interview with people.  "It didn't happen by magic.  It was as hard for me as it would be for anyone else."  It's a message to us that we too can have trim, healthy bodies again no matter what age, shape, or size we are now.  The other thing is we need to stop allowing ourselves to cop out because we think it can't be done. These women have proven that it can.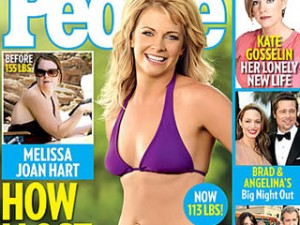 Your size and whether you can look good in a bikini is not all that matters here.  The important thing is being in charge of your health.  However, if in the process of becoming healthy you manage to shed some weight and tone up sagging areas, more power to us all!  I think what these inspiring women would want us to glean is just to find something that works  and go for it.  And, no, we don't have to pose in a bikini to show off our results to be considered successful.  Though, it would be nice to have the option.
Tell us what you think about all the Hollywood skin landing on the covers of magazines.  Have any of you been inspired by their astonishing results or do you think it's all hype and a lot of re-touching?  Please share!