Whenever someone asks my 7-year-old daughter about the fact that I had cancer, she always replies that she saved my life. In fact, this response has become completely automatic for her, and she says it as simply as if she were stating that she is hungry. In other words, talking about my cancer has become a part of our lives that my daughter fully understands. For some people, her statement might not be taken seriously or as an honest depiction of what happened. However, I will always be the first one to happily explain to people just how accurate my daughter's words really are.
My husband Cameron and I were not in a rush to have children. Because of this, we waited seven years before we began tying. By that point, I was 35, and the idea of having a baby at that age was intimidating. However, we made the decision to move forward, and only three months and three pregnancy tests later we got the good news! Finding out that I was pregnant was one of the most exciting and nerve-wracking experiences of my life. In fact, I kept rubbing my belly in shock at the idea that I was going to become a mother! I spent a lot of time wondering what type of mother I would be to this sweet child that was growing inside my belly, and I decided that above all else, I wanted to be a good mother.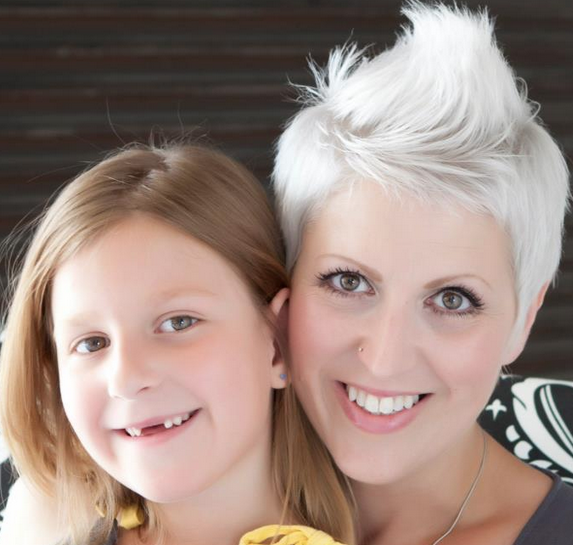 Luckily, my pregnancy was very smooth. I felt like I could have easily done it ten times over. However, there was one hiccup at the end. I was rushed into an emergency C-section during the delivery because my daughter was breech. I like to look on the bright side, and I joked about how our daughter would at least have a round head. I was overcome with emotion and joy after the C-section was over and I was finally able to hold my baby for the first time. I studied her face and thought about how I wanted to protect her, nurture her and teach her. I experienced a level of love that I had never known before. In that moment, I felt like everything was perfect, and I wanted to hold her forever. Unfortunately, I had no way of knowing that there were drastic changes ahead.
Three-and-a-half months after Lily was born, I received devastating news from my doctor: I had malignant pleural mesothelioma. The prognosis without immediate treatment gave me only 15 months to live. As any mother can imagine, I began to fall apart after I heard those words. The idea of leaving my daughter and husband behind was devastating.
Fortunately, Cameron was able to take in everything that the doctor said, and he decided on a drastic course of action. We ended up traveling to Boston to meet with one of the best mesothelioma doctors in the world. There I went through an extreme procedure where they removed my left lung, along with the lining of my diaphragm and heart. After the surgery, I spent 18 days in the hospital, followed by two weeks in an outpatient facility. Finally, I was able to rejoin Lily at my parents' house in South Dakota where I recovered for two more months. Once this process was over, I went home to Minnesota and started radiation and chemotherapy.
Any mother can understand the desire to make the necessary sacrifices to spend as many years as possible with their child. In my case, this meant missing an entire month of my daughter's new life. As difficult as that was, I knew that my daughter needed me to be strong enough to face the surgery and long bout of treatments. By keeping her in my mind, I was able to summon the courage to do what was necessary to survive.
Mesothelioma is a cancer that kills almost 95 percent of the people who contract it. When I look back on my journey with this deadly disease, I realize that Lily was what gave me the strength that I needed to beat cancer. The knowledge that my baby would need me, kept me going. Lily is 100 percent correct whenever she tells people that she saved my life.