The office environment naturally can affect productivity. And one thing that might not be considered is air quality. Studies show that poor air quality in the workplace has a significant impact on employee morale and performance. Employees who work in offices with poor air quality report higher levels of sick days, stress, and discomfort among staff. 
Several factors influence office air quality such as; ventilation rates, HVAC system design, and overall office layout. Additionally, air pollution from outside can easily enter buildings and gather there. The air quality inside an office building is often worse than it is out on the street. Some other things that can affect air quality are mold, chemicals, and simple dust.
At the moment, indoor air quality is an even bigger concern due to the COVID-19 pandemic. Lack of circulation and clean air increases the chances of the virus spreading, so businesses need to pay more attention than ever to their air quality. These are the key steps you can take to ensure your employees are healthy and productive.
Monitor Air Quality
Monitoring the air quality is the first step to improving it. You need to know what you are dealing with so you can take effective action. Consider investing in an air quality monitoring system to give real-time information about things like temperature, humidity, and gas levels. 
It's particularly important to monitor the levels of carbon monoxide in the air because high levels can cause a serious lapse in concentration and serious health concerns. Once you start monitoring your air quality, you can identify problem areas and take steps to deal with them.
Maintain Your HVAC Systems
Your HVAC system needs to be maintained consistently to prevent problems that could affect air quality. The most common problem in offices is when the HVAC system struggles to circulate fresh air around all of the office space. If your HVAC system is faulty, it may not be replenishing the air at all, and dirty filters could even be putting more pollution into the office. Include air duct cleaning to your regular maintenance schedule. This might not be done by your HVAC service provider, but there are companies that do both. Remember, your HVAC system is the best tool you have for improving air quality, but only when it is working correctly. Made sure to use Commercial Air Duct Services to get the best results.
Improve Ventilation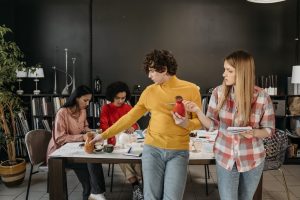 Improving ventilation in the office will go a long way toward improving indoor air quality. The more time spent with the windows shut, the more poor air and pollutants will build up inside. So, in warmer months, make sure you keep the windows open as much as possible to create a natural airflow. This is particularly important right now if you want your employees to be safe and healthy in the office during the COVID-19 pandemic. Don't underestimate the impact that air quality can have on productivity. Take action now before it harms your health and business.