If your wedding day is coming up soon, it's likely you're wondering if it will all work out the way you want it to. Spending time planning your wedding can be a lot of fun, but there is also considerable stress surrounding all the things that could, indeed, go wrong. While most things are in your control, there are simply things that are not like vendor mistakes, weather, your partner's feelings, etc. In this article, we'll look at a few things that might throw a wrench in your plans and how to deal with them.
Double Bookings
Double bookings by vendors can be a horrible reality that happens more than you would think. Because venues, photographers, florists, and other wedding businesses are so in demand, rebooking can be difficult. It is for this reason, that I highly recommend double checking and confirming each and every one of the outside vendors and services that you have contracted for your special day. If you have a wedding or event planner, he/she should be on top of this, but never assume anything.
Obviously, you can't book two of every service just in case something happens, but you can have an alternative in place should something go wrong. For example, should your venue for through, think about where else you could hold the ceremony and reception. Perhaps, a friend or relative has a large enough backyard or barn. Do also, look up the different services online, to find companies that provide last-minute services. This way, if the worst does happen, you have someone on back-up.
Bad Weather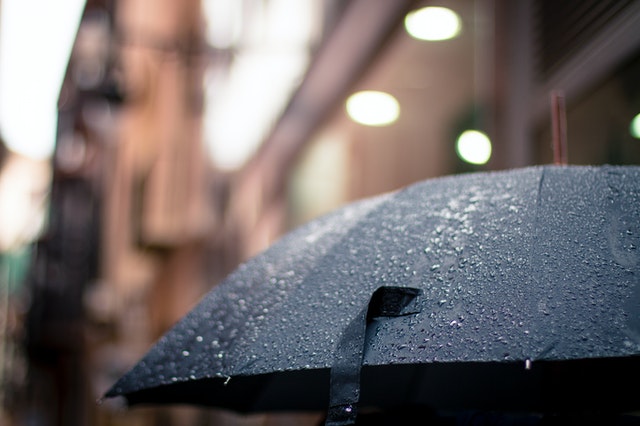 If you are planning to have your wedding outside, or get some beautiful photos in the sun, bad weather can be particularly troublesome. However, there is a way around this scenario. Rent gazebos, tent, or another shelter to set up in the outside area that you are going to be using for your big day. Then, even if there is rain, you are still able to hold your wedding outside and get some stunning photos. Even if the weather takes a  turn for the worse, it could turn out to be a beautiful backdrop. More importantly, do hope for the best but plan for the worst-case scenario. If you do this well in advance, you shouldn't have any problems accommodating any weather on your wedding day.
Cold Feet
Finally, cold feet! It's no secret that many people experience cold feet on their wedding day, and it is completely normal. They might even freak out thinking it means that they are not supposed to be marrying the person they've chosen, but that's usually not the case. Marriage is a big step that requires plenty of time for deep thought and communication. Because planning a wedding can be so intense, both you and your partner might not find the time to do this. The result can be last-minute soul-searching that can feel disruptive and scary.
That moment of hesitation before you go through with a life-altering choice happens because you want to be certain it's what you want for the rest of your life.
Don't panic, remember all the reasons you love the person you are marrying. Think about your dreams and how your partner fits into them. He/she should do the same. Talk things through, and don't be afraid to share your fears with your fiancé. If there are deep concerns that you can't work through before the ceremony, you can always postpone things until you can. Though this might not be what you want to do, it would be better to put off the wedding than to go into a marriage you aren't ready for.
Getting married takes a whole lot of planning, time, and the ability to handle stress. No matter what happens, try to stay focused on what's important- your relationship. The two of you can handle the problems together. Consider this time as a test of how well you work as a team.