While you can't influence how chaotic the outside world is, you can execute control over your home environment. After all, your living space is the one place you can completely be yourself and create an atmosphere that makes you happy. It's important to make your space comfortable and energetically positive. Some refer to this state as "zen". No matter what you call it, however, focus on creating a living space that you want to be in.
Even if you're not using much outdoor space now, it's an opportunity to create a peaceful haven for relaxing and reflection. Who knows, it just might be your favorite part of your home with a little work and investment. Take a look at these 4 ways to create a zen outdoor space.
Make it Private
Being on display for your neighbors does not give a peaceful, safe feeling at all. One thing you can do to rectify this situation is to create some privacy. Because some homes are so close together, adding a privacy fence is one option for securing some outdoor privacy and security. If this isn't in your budget or you rent, consider using some temporary dividers or curtains to conceal a deck, patio, or garden area. 
If you plan to stay at your home for years to come, consider planting some tall bushes or trees that will help you create a garden oasis. You can also purchase a portable outdoor patio covering that you can take with you if you move.
Make it Beautiful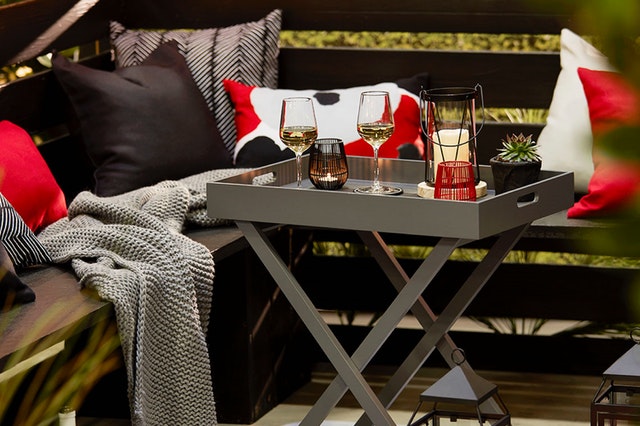 Privacy may be an important factor for peace, but you'll also want to make your outdoor space beautiful. If it's been some time since you worked on your yard, think about how you want to feel outdoors and what you want to experience. Do you love flowers, birds, water features, or having your own veggie garden? These are just examples of elements you could add to your outdoor living space to make it your own. Visualize yourself in the space to get a clear picture of what you really want before you begin working on it. Remember to be creative and do what makes you feel happy and relaxed.
Of course, don't forget about the basics like keeping things safe, clean, and well-trimmed. Do also incorporate various stones, sculptures, lighting, and anything that expresses your personality. You can find so many beautiful and interesting items at your local garden store or online at stores like www.edrichlumber.com. And, once you've taken steps to make your space more beautiful, you just need to stay on top of maintenance. 
Add an Element of Deep Comfort
If you want to spend some time outdoors alone or with family and friends, having ample, cozy seating is imperative. I highly recommend investing in the best outdoor furniture you can afford. I say this because high-quality pieces will last longer and give you more comfort than something cheap. You can always look at second-hand shops or online markets for bargains. Also, choose outdoor fabrics that will hold up to sun exposure and the elements.
If you plan to spend hours relaxing, playing music, or just being, consider adding a hammock, porch swing/bed, or a comfy sectional for the deck. I have a feeling these zen spaces will be frequented more than you think by you and your loved ones, therefore, making your investment worthwhile.
Attract Wildlife 
You can up your yard's zen cred by adding a few key touches that put you and your guests into a state of relaxation. Elements like water features, butterfly gardens, and bird feeders can all be a magnet for wildlife. I can't think of too many things more lovely than sitting outside on a beautiful summer morning, listening to the sound of running water and birdsong. 
Just as you plan and design your indoor space to reflect your unique style and needs, do the same for your outdoor spaces. It naturally expands your living area and gives you a comfortable, peaceful place to enjoy alone time to reflect and relax. Creating a zen outdoor space doesn't have to be difficult or too expensive either. Do what you can by using what you have and invest in other items a little at a time.