Hosting a successful business event can be a major key to achieving your company's goals. Whether it's launching a new product or networking with potential clients, a well-planned and executed event can provide much-needed traction. Furthermore, raising awareness of your brand and simply bringing people together are benefits you can't ignore.
However, hosting a great event can be daunting, making it easy to get overwhelmed by all the details. To help you out, here are five tips for hosting a successful business event that you need to know.
Set Clear Objectives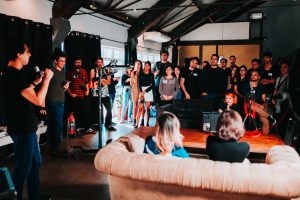 While every event is different, all successful business events have one thing in common: clear objectives. Before you get started, take the time to clearly define your goals and mission. What do you want to achieve from the event? Why are you hosting it? Once you know your objectives, you can use them as a guide throughout the planning process. This will help you stay focused and keep your eye on the prize.
Hire Experienced Caterers
If you're hosting a significant corporate event or planning to serve a meal, hire an experienced caterer. Bringing in a quality caterer for private events makes them more memorable and valuable in general. It will also take the stress off of you and your team, as you focus on the rest of the planning.
Do your research and ensure the caterer has many positive reviews and experience in working events like yours. Make sure they offer exactly what you want, such as the level of formality and price. For example, a high-end luxury business event will require a more formal and curated menu and service. A fun family-friendly business event might have a more casual menu and setting.
Choose an Accessible Venue
The venue is the foundation of any event and plays a significant role in determining the success of your business event. Make sure to choose a venue that is accessible (e.g. close to public transportation, large enough for your guests, etc.) so that your guests can quickly get to and from the event.
You also want to ensure that the venue has the necessary space and equipment to host your event. This will keep things running smoothly and efficiently. It also needs to be accessible to all guests, including handicapped ones, and have appropriate amenities, outlets for equipment, and bathroom facilities, as a minimum.
Market Your Event
Once you have a clear idea of what your event is and what it will entail, start promoting it. Try to market your event well in advance, especially if it's significant and costly. Make sure to post updates and pictures of the planning process so your followers know what's happening behind the scenes. This task can be achieved and completed yourself. However, if you're inexperienced in marketing, consider hiring an event marketing company to do the work for a more professional result.
Whether you DIY or hire someone, I also recommend using a dedicated landing page for your event. This provides you with a central hub to post all relevant information about the event and where people can sign up to attend. Promote your event on your website, social media pages, and any other marketing channels you have access to. 
Follow Up After the Event
No matter how amazing your event is, people will begin to forget without reminders. Once your guests have gone home, the ball is in your court to follow up with all the attendees who came to your event. Send thank-you notes, host online surveys, and personally follow up with any guests whom you connected with. This will help you close the loop on your event and give you valuable feedback that you can use to improve future events. 
Hosting a successful business event is challenging, but with the right approach and planning, you can enjoy and benefit from the experience. By setting clear objectives, hiring experienced caterers, choosing an accessible venue, and promoting your event, you'll be well on your way to hosting a great event!