You rely on your employees to carry out accurate work in a timely manner every single day as they do their jobs. As an employer, it is your job to ensure they are safe, at ease, and comfortable at work. Your ongoing support of these factors will help to cultivate a positive work environment for you, them, and everyone who walks through your doors. All in all, it doesn't have to be time-consuming or expensive to make sure your employees have access to everything they need during their workday. Although it is up to you how much you want to invest in your employees. Whether they need specific equipment to feel comfortable at their desks or the space needs an update, make a plan to create the best work environment you can. Here are a few things you can do to make your employees comfortable at work.
Supply Updated Office Equipment
It may seem like a basic thing for any office, but some offices have outdated furniture and equipment, causing workers to struggle with physical comfort and efficiency. You may want to carry out an audit of your current office equipment and all furniture that your employees and visitors use. This is also a good time to ask your employees about how the work space could improve. Listen to them and make the appropriate changes as soon as you can. Something as simple as having a chair that fits the desk can make a world of difference for someone who struggles with back problems. Consider how much more efficient things could run if everyone is pain-free and comfortable.
Maintain An Optimal Temperature
The temperature inside an office building is fundamental to the comfort, wellbeing, and productivity of a team. If your office is based in a place that is extremely hot or cold, then you may need to look into upgrading your system for optimal service. It also wouldn't hurt to contact commercial hvac construction services for a inspection and estimates on making things the best they can be. From design to installation, a professional team can help you meet your needs and budget. Similarly, regular maintenance checks and any needed repairs will help your current system to work optimally and not fall into a costly repair or replacement. Looking into a long-term, affordable solution for your air conditioning and heating units in your office is worth exploring sooner rather than later.
Build a Team That Works Well Together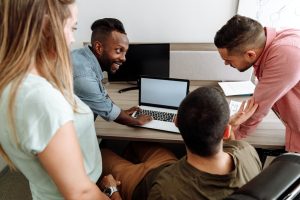 Being comfortable at work is not only about the physical environment, but it also relates to the people that comprise the team. Creating a cohesive, friendly, and productive team will allow everyone to enjoy their work so much more. It also helps your team to be more efficient and likely to reach out for asssistance if needed from you and co-workers. When hiring new recruits, consider the personalities, strengths, and weaknesses of your current team. Arranging managers and sub-teams tactically during projects will also help everyone to get along in a way that makes everyone feel valued and comfortable.
Be An Approachable Boss
It is in your best interest as a boss or manager to keep an open line of communication to everyone who works for you. No matter how small or big a problem is, be willing to listen and offer help if it is appropriate to do so. Being an approachable boss really has to do with perception. Think about the example you set for your team. Do you often show interest in them as people, not just your workers? Do you listen without judgment and micromanaging?  Remember that dismissing people's problems and queries can create tension and cause your employees not to trust you. Building that sense of trust and openness from the beginning will allow everyone in your office to feel at peace and ultimately work better with each other and you. 
Don't Overwork Them and Offer Flexible Working
Offering flexible work schedules to your employees is one of the best ways to help them feel comfortable with their work and personal life balance. Make sure your employees aren't working too many hours and are taking the time off they deserve after busy periods. Following working time directives and other legal policies will not only help you to create a supportive environment, but it will also help to maintain high company morale.