Perhaps you have been working from home, and the kitchen table is no longer a viable option. Or maybe expansion is needed to push your already established and ever-growing business to the next stage.
Whether you own or rent your current facilities, this may involve the development of your present building or space, the acquisition or lease of additional sites, or even a total move to a new site.
Whatever your circumstances, broadening your business physically can be an expensive and time-consuming task, as well as incredibly stressful. Every business is unique, and your journey to development will depend on the type of business you run and your marketplace. Doing plenty of research is the key to making a significant expansion work. Here are some important things to consider.
Site
Figure out precisely what your business needs from the expansion process. Do you work from home and now you need to bring in extra staff? Perhaps you need a larger office space with conference areas. If you run a local shop or service, you may want to start up a new location, in which case, you are likely to look for a site similar to your original location. 
Do also consider if your current site can be modified? Maybe a portable building with insulated panels is a solution, rather than the upheaval involved with moving. Are consumers going to visit your place of business? Is interior design important? Do you need a lot of available parking spaces? These are all things that you need to take into consideration.
Make a list of your requirements and wishes so that you have a clear picture. Even if you have a strategy in mind, look carefully at all the options available as you may find a different, less apparent solution that works better or even saves you money.
Location
Depending on your type of industry, the geographical location may be of paramount importance-maybe your business needs to be highly visible, for example, in the center of the city or on the busy highway. If this is not the case, you could reap the benefits of lower costs on facilities in industrial estates or go even more out of town.
Cost
The cost of building work, buying a new site, or renting a property is obvious but also make sure that you acknowledge the financial impact on your business during the time of disruption. There may be downtime when construction work is carried out or personnel and equipment are moved to a new site. If you are setting up an extra site, you may need to take time out from one location to set up processes and train workers at the new location.
Think about what you are expecting from the expansion and what it will mean for your business. Have you weighed up the cost of moving against the potential increased revenue? How long is it going to take? What will be the effect of the transition on business?
Is physical expansion absolutely essential? If expansion is required for storage purposes, a storage unit can help to free up more space. Do all the workers have to work in the same space? Extra staff may be able to work remotely from home and save on the office space and overhead.
Services and Suppliers
Of course, this is dependent on the industry that you are in but think about the services and suppliers that your business relies on. This might be suppliers of goods and products to cleaners and IT support. Before you move anywhere, you need to check that they can deliver the service to your new premises, and, if not, is there a notice period which you are bound by before you can cancel. If this is the case, you also need to make sure you can find replacements or alternatives ready for your new location. 
Competition
Not only is it important to know what your main rivals are doing and where they are based, but they may also illustrate new ideas for going forward in terms of location and business premises. They may even be an indicator of what not to do. Where are they located? What kind of premises are they working from? Have any of the competitors been expanding recently?
Staffing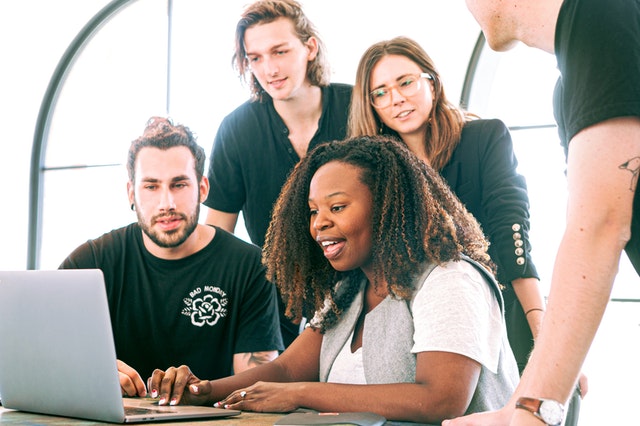 Expanding a business usually requires extra staff and management. Talk about your plans for expansion with your current team to get their input and feelings about it. For it to be a success, you need your team on the same wavelength. You also need them to step in and take more responsibility in your business as it expands. They need to be empowered by the potential of a growing company and how more responsibility is linked to more rewards.
In Conclusion
Over expansion is better than under expansion or at least make sure that you extend enough to make it worth your while. It may sound foolish; however, if you are investing a large sum of cash in expanding your premises, you do not want to find out a few months down the line that you still need more space.
Have a contingency plan, and make sure that you have considered and prepared for all the possible risks. If you have recognized and prepared for potential problems beforehand, it makes them much easier to handle if and when they pop up.