***This post was contributed and may contain affiliate links.
According to InStyle, bandanas are one of the hottest fashion statements of the year. We're seeing them used to push back hair and as summer neck scarfs. They're even showing up as face masks. So what's the deal here? It turns out that bandanas have a whole host of practical uses that many of us may not be aware of. And now that the celebs have gotten in on the action, it's shifted the whole trend into high gear. Recently, Hailey Baldwin, Cody Simpson, and Chiara Ferragni have all been spotted wearing them. All, of course, in different guises.
Those at the forefront of fashion say this trend is different from others we've seen in recent years. Bandanas apparently have staying power. And it's all down to the fact that they have some genuine utility.
The cynic might say that the only reason we're talking about them is that it's concert and festival season. We're all going to hear our favorite music and want to fit into the hot summer vibe. But if you go on Pinterest, you'll see dozens of women sporting individual looks using bandanas. And that's probably the main appeal they have from a fashion perspective.  And if you want to be completely unique, there are sites like CustomOnIt.com that will produce nearly any design you want. Then, there are all the outfit permutations and the fact that you can wear bandanas many different ways. I think we have a fashion winner here!
But bandanas aren't all about fashion. Sure, they might be the style du jour this summer. But they've been put to use making waves in areas that really matter for years now. In fact, bandanas are driving some of the most inspirational charity stories of the year.
Bandanas For Brain Tumors
Back in March of this year, The Brain Tumour Society wanted to raise awareness about the disease. They decided the best way to do this would be to get everybody wearing bandanas. Schools, businesses, and fundraisers all joined in. And it was, of course, broadcasted over Twitter and Facebook. The idea was to wear bandanas with style, compassion, and love. And, most importantly, it educated local communities about the disease and how it affects its victims.
The ultimate goal of the campaign was to raise money to get better treatment of brain tumors. At the moment, the most promising research is in the area of early diagnosis. Doctors believe that if they can catch the disease early more people will survive.
The head of the fundraising effort said that she hoped the event would be fun and help raise awareness as well as funds. The charity raised $140,000 to speed up developments in early diagnoses by selling bandanas for the $4.75 and using Twitter to get the message out.
Bandanas For The Brave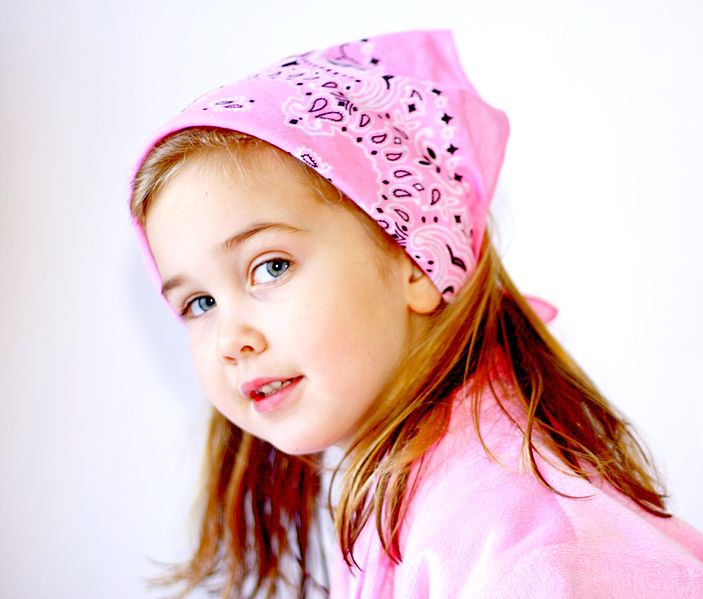 Because hair loss so often accompanies cancer and its treatment, bandanas have proven popular with patients of all ages. Bandanas for the Brave is another example of a cancer charity using the bandana as a vehicle for change.  However, this foundation's purpose is to give bandanas to patients with cancer.
The charity got started back in 2010 by Simon and Ellen Vance, a couple from Ireland, who were inspired to launch the charity when their son was undergoing chemotherapy. Todd, who was their second son, endured 92 weeks of treatment. At the end of it, all of his hair had fallen out. She could see that the hair loss and the effects of the treatment devastated him. Todd wasn't prepared for how rapidly his hair fell out. Ellen decided to do something about it. 
They realized that a lot of kids had been through what Todd had and set out on a mission to make a difference. With all the treatment and worries going on for parents, dealing with the shock of hair loss is often forgotten. And so they resolved to get a bandana into the hands of every child with cancer. 
Simon and Ellen contacted a local company, who agreed to produce bandanas for the couple to start their charity. Since then, they have handed out bandanas to children affected by chemotherapy. It's been a big success in hospitals in their hometown. In 2014, the couple was awarded charity status and have expanded their reach to all over the country. 
National Bandanna Day
The bandanna craze has also caught on down under as well. The Australian charity Canteen.org uses bandanas to spread awareness and raise money for young people with cancer. They recognize that cancer is a disease that affects more than just the body of a young person. It also affects mental well-being, too. The charity does focus on treatment, but it also focuses on giving support and counseling. One of its principal goals is to make sure that kids have access to one-on-one support.
Last October, National Bandana day in Australia raised over $30 million. Nearly 1.2 million people in Australia donated directly to the charity.  This year, the charity will host another event in October to raise money for young cancer victims.
Thus, the bandana has become so much more than a piece of clothing. It's now a symbol in the fight against cancer. And it's proven to be a powerful tool in raising money for the victims of the disease.