Are you thinking about adopting a dog but aren't sure how to go about it? Though it's not complex, it can be tricky to secure the right pet for your family. It can be time-consuming and leave you walking away without a new dog. This is because the process has gotten more strict and doesn't always work out.
Adoption companies want to pair dogs with families that have the greatest chance of retaining an animal for the long term. Other sources like breeders and shelters are an option, but there are also challenges there, too. Unless a dog walks up to your home begging to be your pet, it isn't an easy thing to do. Prepare to jump through multiple hoops and spend some money to adopt your new pet.
Thankfully, you can make finding a new pet much easier than you might've thought. While you'll still need to get through certain hoops, you'll be far less stressed than you might've thought. If you're about to get a new pet, three of these are more than worth focusing on.
Adopt From an Ethical Breeder, Shelter, or Adoption Company
There are more than a few breeders, shelters, and pet adoption companies you check out. That said, not all are ethical and offer quality adoptions. I recommend going with places that have good reviews and a successful track record of dogs staying in the homes they are placed in. Whether you're looking for a havanese puppy or labrador, make sure you put the time and effort to vet your sources for red flags before you move forward. It's important to find the right match from the beginning as you open up your home to a new pet.
Be Patient
Being adopted can be a stressful time for a dog. They'll not only be around new people but be in a completely new home. Feeling stress can cause misbehavior or even aggression. It's important that you understand what can happen in this situation. It could take them a while to settle in and start behaving the way you want them to. Give them time to adjust to the environment and you, as they are embarking on their new life.
While training and integration strategies can help with this, adopting a dog means you'll also need to be patient. It's not likely they'll feel set immediately, and you'll need to help them with this. By being patient, you can take your time with them while getting to know your new dog.
Physically & Mentally Exercise Them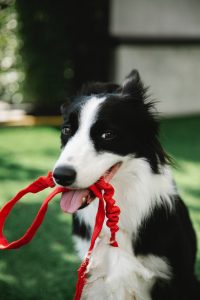 You know your new pet needs physical exercise, so you'll take them for regular walks, right? However, it's far from the only type of exercise they need for success. Their brain is just as important as their body, so they will need some mental stimulation to help them be their best.
You can do most of this when your dog is indoors, but the actual mental need depends on their breed, size, age, and other factors. Being outdoors is beneficial for dogs and can help them feel calmer and acclimate to their new home. Do also talk to your vet about mental exercises for your dog that can help them grow and be healthier.
There'll be a lot to take care of before and after to make adopting a dog easier, so be prepared. I recommend that you consider this carefully before you even start looking. Seeing those cute faces can make you want to move quickly. Take your time and find the right adoption source and dog before getting attached. Good luck and happy adopting!