Reputations in life and business are less flashy and milestone-based than you might think. For example, not everyone has a chance to prove themselves to be the strongest and most intelligent in the room as if they had just ended the bad guy's evil plot on the evening news. Instead, reputation is built through consistent, reliable effort. It's about dependability, consistency, and sustainable growth. Often, this becomes the most resilient form of reputation, which can weather knocks against it. They say that reputation takes years to build and minutes to destroy, and while that might be true, knowing some good business reputation strategies will help you prevent small mistakes from defining your course.
Moreover, reputation is not something to be chased, but a nice ancillary benefit to working well in a few distinct areas. In this post, we'll discuss how your positive actions contribute to a good business reputation, and from there, help you with sustainable measures to achieve such an outcome:
Managing Outsourced Help
It's important to treat not only your staff well, but those who come to work for you on a subcontracted basis. This often means managing them correctly, from developing unique payout methods to ensuring their day-to-day schedule is properly formatted. For example, you might use driver management software to help you properly integrate in-house logistics and outsourced drivers alike. When you can provide that level of professionalism, your outsourced helpers tend to remember it and move forward with you, not against you.
Underpromise, Overdeliver
The adage of underpromising and overdelivering isn't quite a marketing tactic, but a fantastic method of leaving customers and clients satisfied every time. For instance, you might offer impressive loyalty promotions to customers who've been with you for a certain amount of time, even if they had no idea it was coming. Even if you just measure your promise or accept contracts, you can avoid promising the world in your marketing approach, because you may never live up to that. This can be a smart way forward.
Train Your Ambassadors Well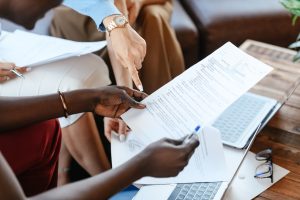 It's important to train those who act as the front-face of your firm. Do this for everyone from customer support agents to welcoming chaperones. Help them nail your brand tone of voice, give them manageable shifts, and make sure they feel confident and included in your brand story. It all counts toward them feeling as though they want to be an ambassador of your brand, instead of feeling as though they have to be.
Other Positive Actions
Here are some additional good business reputation strategies you can do as a business owner to create a positive vibe around your biz. Try providing a comfortable and interesting environment for your employees to work in. You can also offer them the opportunity to work remotely if it is possible. Furthermore, developing worthwhile career progression plans will help empower them, and show them to be the best side of your brand. When you have good, motivated people, your reputation will go out in ripples.