Yoga is not just a beneficial activity for adults. Teaching your teens yoga can positively affect them in many areas of their lives. Think about how practicing yoga affects you. Does it uplift your mood? Does it keep you in good physical shape? Does it give you better self-confidence? Is it fun to learn new poses and execute them? Well, if you can answer yes to any of these questions, consider how all of these attributes might help your teen during one of the most challenging times of their lives. I encourage you to think about how you could make yoga fun for your teen. Here are several of the major benefits of yoga for your teen.
Physical Fitness/Health
Let's begin with the obvious benefit of providing a consistent form of physical exercise. While yoga may not be a fast-paced cardio workout, this does not mean that your teen cannot get a thorough session of movement. If they tend to enjoy more active sports and activities, yoga can be a supplemental activity that provides a space to calm down, recover, and focus on their breath. You can show them various types of yoga exercises on yoga mats, standing, or even seated in a chair to see what they might enjoy.
In addition to the physical fitness aspect, doing quality yoga poses can help your teen to improve their posture, as well as strength, balance, and flexibility. In a day and age where childhood obesity is a real problem, yoga could be a practice that helps them get out of or stay above that trend.
Social Life Improvement
Another benefit associated with yoga is that it can improve your child's social life and skills. First, your child could meet new people while attending teen yoga classes or a club at school. This provides the opportunity to meet friends with the same interests in them. Not only this, but yoga focuses on self-awareness and listening to the body. Being with others who want to do the same thing can create deeper bonds and trust.
Emotional Release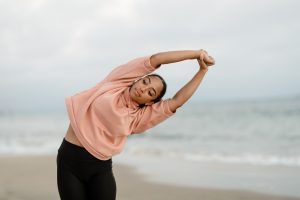 There are also several emotional advantages that your teen could gain by practicing yoga. As you might be well aware, teens can be emotional and moody. Understand that it can often be hard for teens to digest and express the emotions they are experiencing, which causes them to get frustrated and sometimes lash out.
With a yoga practice, they will be able to connect with deeper emotional layers and gain a better understanding of what they are feeling. This is known as emotional intelligence, and the earlier an individual can develop it, the better. Emotional intelligence helps us in all areas of life. It is something that employers look for in hiring new employees.
Improve Focus
Last but not least, yoga can help your teen focus on school, job, sports, and anything else that is important to them. This is because it helps to bring all parts of the being together in complete harmony with the present moment. This isn't something that humans do automatically; it has to be practiced intentionally. While on the yoga mat, they will learn to be present in that moment and fully concentrate on what they are doing. This is a skill that transfers to other important areas of life when it is done frequently.
As you can see, there are many benefits associated with yoga for teens. Not only does it physically benefit teens, but it can help your child emotionally and educationally. Plus, it is a great way for them to meet new people and increase their social skills. Furthermore, it is an opportunity to share something with your teen that you can do together. And, I don't know about you, but I always look for anything that can create a connection between my teen daughter and me.