If you're a woman with something to say, starting your podcast is a great way to be heard and use your unique voice. Not only are podcasts a superior way to connect with an audience, but they're also relatively easy and inexpensive to produce. Though it is not the only way to put yourself out there, it is certainly one way to get started if you're on a tight budget.
Here are 10 tips for starting a podcast!
Define Your Purpose
It's important to define why you want to start a podcast to know how to develop it. What topics will you cover? Who is your target audience? Knowing the answers to these questions will help you focus your content and make sure your podcast serves your ultimate purpose.
Choose Your Topic(s)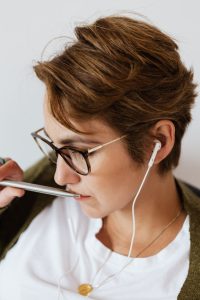 The second step is to choose the topic(s) of your podcast. What are you passionate about? What do you want to share with the world? Once you've chosen your topic, it's time to start planning out your content. Keep it flowing with the main baseline topic but sprinkle it with interesting side journeys to keep your audience engaged.
Choose a Catchy Name
Your podcast's name will be found and recognized by the name you give it. This is also part of your branding. Make sure it is interesting but also reflects its content and purpose. Make it memorable and easy to spell so that potential listeners can easily find it online. This could be something you brainstorm with your friends or colleagues.
Invest in the Best Quality Equipment You Can Afford
Get the best equipment you can afford right now. Don't put yourself into a financial bind to launch this thing, though. The truth is that most people who start blogs and podcasts don't do it for a long time. Think positively but be cautious. Once you get going and know you're all in, investing in some better microphones, a 12g-sdi distribution amplifier, and recording software will go a long way in making your podcast sound more professional.
Create Quality, Interesting Content
Now that you know what you want to talk about, it's time to start creating great content for your podcast. This means coming up with engaging ways to present your topics, conducting interviews, and recording high-quality audio. If you work better with another person by your side, by all means, take on a partner. This is the place for your unique personality to shine and attract your tribe.
Find the Right Platform
There are several different podcasting platforms out there, so it's important to find the one that's right for you. Once you've chosen your platform, you'll need to create an account and submit your show for approval. I highly recommend talking to some people who currently operate podcasts or have in the past. Get their take on which platforms would best serve your goals and budget.
Find Guests
If you're planning on interviewing guests on your show, start reaching out to potential candidates early on. Having interesting and engaging guests is key to keeping listeners tuned in. Consider those whom you've worked with in the past, teachers, professionals from your area, experts, etc.
Promote, promote, promote!
Once your podcast is live, make sure you're doing everything you can to promote it. Social media is a great platform for getting the word out there, so make sure you're utilizing all of your accounts. You can also submit your show to popular podcast directories like iTunes and Stitcher.
Be Patient
Building a successful podcast takes time, so don't get discouraged if you don't see results immediately. Instead, keep producing quality content and promoting your show, and eventually, you'll see your audience grow. Keep track of your stats so you can look back and see how far you've come since starting a podcast. 
Have Fun!
Podcasting is meant to be enjoyable, so make sure you're having fun with it. If it starts to feel like a chore, take a break and make the appropriate changes. The most important thing is that you enjoy the process.
Podcasting is a great way to be heard, connect with an audience, and build a following. With some planning and effort, you can create a successful show that will engage and entertain your listeners. By following your heart, purpose, and a sound plan, you'll be well on your way to creating a successful women's podcast! Good luck!