If you're about to hire for the first time, congratulations on getting to a point where your business can afford to bring more bodies on board! But now we get into the real grind of being a business owner; you've got a lot of things to consider right now and you might not be quite ready to do so. 
After all, you need to put together a hiring process, and that's hard if you never thought you'd get to this stage! Many small business owners are in the same boat, and the competition for talent can be fierce. But to make sure you're hiring from the best position possible, here are some tips for a first timer. 
You'll Need Time
Hiring takes a lot longer than you think it does. You've got a lot of interviews to get through, and even if you can do around four or five a day, you still have upwards of 30 applicants to see! So make sure you account for this before you get started. You're going to need around two weeks, at the very least, to find the right fit for your company.
Once you've hired someone, they may need to work their notice at their old job, which could be another month or two, and then they're going to go through a probationary period in the position you offered. So above all else, make sure you've got time like this on your hands. 
You Need an Employee Process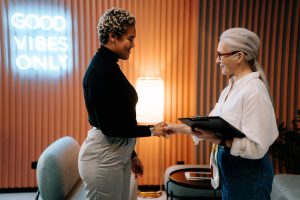 Before you even bring any candidates into the interview room, make sure you've got an employee process in place. Selecting the right candidate is a series of steps, and it's best to set up your Payroll Management needs right now before you bring them on full time. It'll streamline the process and prevent you from wasting time and resources! 
First off, write down what you're looking for in a candidate. Make sure both soft and hard skills are included in the job advert you put together, and then get it out there on as many hiring sites as possible. Once the applications start coming in, make sure you're flexible with what you accept. You're going to need more potential hires than you might think, as some applicants can get other jobs and/or pull out for various other reasons. 
You Need to Know What the Perfect Candidate Looks Like
Finally, what are you looking for in a candidate? You need them to have both the right skills and the right personality. You want someone you vibe with, who has the experience to back it all up. And it's not all about the questions either! Make sure you have a casual talk with all candidates in the interview room, just to see how they react and communicate in general. How would it feel to work alongside them? 
If you're hiring for the first time, give yourself enough time, be personable, and always take on more applicants than you think you'll need!