Some of the benefits of going on a road trip are pretty obvious but others might be a little surprising. Yes, they can make you feel free and alive, but have you ever thought about this phenomenon in depth?  In this article, we'll look at four interesting benefits of hitting the road in your car. Hint: the first one is my personal favorite!
Engages Creativity 
The only thing more creativity-evoking than planning a road trip is hitting the road in your favorite vehicle! Think how passing the miles away in a convertible, RV, or sports car! I get goosebumps just thinking about looking for an inspiring van in local camper van showrooms. Like most creative projects, a road trip is a balance between planning and spontaneity. If you are a creative spirt, you might enjoy both aspects of the journey because dreaming is stimulating. 
There are lots of ways you can be creative on the road as well. Think about what you want to accomplish on your trip and how you want to feel. Utilizing music, audiobooks, or simply chatting with someone are all activities that can light a spark. Road trips are also excellent for creative conversations with themes. 
Discovering Beauty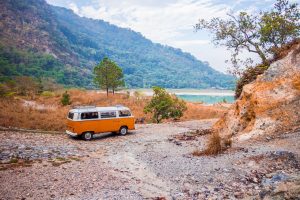 One of the most inspiring things in life is witnessing the wonders of the natural world up close. A road trip will get you plenty of access to quaint towns, nature, and the sites in between. Why not make your destination a beautiful location and enjoy the journey as you travel through many little-known places? 
Beautiful locations, especially natural ones, release feel-good chemicals in the brain, making you feel happier and more inspired. What do you think might happen if when you get out of the car to go explore? Yeah, you get changed…blissful living at its best!
Frees Your Spirit 
Among other interesting benefits of taking a road trip, gaining freedom and flexibility is most notable. Unlike a conventional holiday where you book a set flight, a hotel room, and various excursions, a vehicular road trip oozes carefree vibes. This type of holiday is perfect for free-spirited people of all kinds. 
There is nothing like changing directions or turning going off course because of a conversation you are having. Or how about setting off from your overnight parking in the opposite direction from where you intended? Discover new people, situations, and places with some spontaneous choices!
Saves Money

 
Spend some time working out your budget for the trip before you take off. You should be able to plan a free-spirited trip that is easy on your wallet. Simply having a sleep-in vehicle like an RV will save you a small fortune in hotel costs. These vehicles can be bought or rented depending on your budget and lifestyle goals. Renting a van or camper is obviously the most cost-effective option unless you are an avid traveler who will use it frequently.
There are many notable benefits of going on a road trip, but the best ones are those you will experience when you just do it! I encourage you to be flexible and plan your trip loosely. Let the days and miles inspire you to search deeper for what lights you up. The possibilities are endless and open-ended!