With technology becoming increasingly prevalent in our lives, having modern conveniences and gadgets has become more common and even expected in our modern society. This means more businesses are creating options to expand technology in the home and office. For homeowners, this trend offers ways to manage and utilize their homes in ways never thought possible in the past. Here are several modern ways to use tech in your home.
Smart Appliances
If you are in the market for new, updated appliances, consider all of the innovations that have happened recently. We are seeing increased efficiency, as well as the ability to connect to wireless systems in the home. These improvements can help you save money and be in control of how and when you use appliances such as a washer/dryer, dishwasher, and even your refrigerator.  I love the ones that have built-in cameras that preview what is inside. That is extremely handy when you are out at the store and need to check something. Furthermore, the aesthetic look of these new products is outstanding, especially if you highlight them with some beautiful built-in cabinets.
Automated Cleaning Products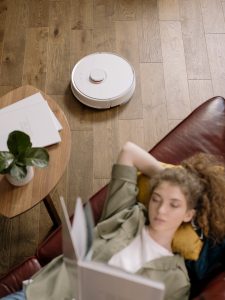 This one brings thoughts of the old cartoon The Jetsons to mind. The odd thing is that the technology we once only dreamed of is now a reality. Yes, robotic cleaning systems exist! And, the market expands every year with new gadgets designed to make our lives easier. Here are some of the amazing products available right now. Look for actual brands and check reviews before you purchase.
Robotic Mop
Robotic Vacuum
Microwave Cleaners
Self-Cleaning Litter Box
Self-Cleaning Puppy Pads
Air Purifiers
Automated Toilet Bowl Cleaner
Wireless Charging Stations
With the increasing use and need for wireless devices in the home, it's important to have an efficient method and a convenient place to charge them. Wireless charging stations make it easy to keep all of your devices charged without having to worry about unsafe and unsightly cords. They're also great for entertaining, as you can charge multiple devices simultaneously. 
Home Automation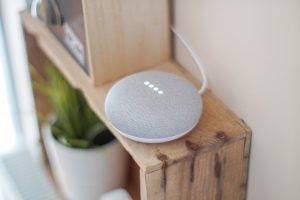 From door locks to an intercom for apartment or home use, there are a variety of devices that can be controlled remotely through a wireless system and app. This is convenient and secure, as you can monitor your home even when you're not there. Imagine turning on your heating and cooling system, lights, or turning off your home security system as you're returning from a vacation. There are even smart windows that respond to outside stimuli. This tells the window how much light and heat to allow in, creating a much more efficient way to save energy and money all year long.
Consider all of the ways a home automation system like this could help you be more efficient and comfortable. Not to mention it's fun to explore the capabilities as things progress in the market. No, we don't need all these things to survive, but they sure can make life a little easier.