So you want to know the most effective ways to grow your career as an employee? To start, think about where you want to be with your career. Do you want to move up the ladder at your present company? Do you want to switch to another company? Perhaps, you want to start your own business. Next, it is important that you are aware of the different types of jobs available in your field. You can use websites like LinkedIn or Indeed for research. All of that said, there are a few things you can do no matter which direction you desire to go. Here are some tips to get you started.
Grow Your Skills & Advance At Work
First of all, it might help you to advance if you grow your skills, improve your knowledge, and maybe even gain more certifications at your present gig. To do this, research what skills will help you the most presently, as well as in the future. I recommend asking human resources or your superiors for information about tuition reinbursement and courses offered by the company. Remember, this benefits both you and them, so they are likely to help. Companies that offer continuing education often have specific training options. For example, Careskills Academy's Care Certificate would benefit a company that focuses on care giving or medical support.
Improve Your Workplace Productivity
Workplace productivity is a hot topic in today's workforce because employee standards seem to have slipped, especially since the pandemic. In order to get the most out of your workday and work to your potential, be informed about what is expected of you. Going above and beyond may not be necessary, but it certainly looks good to your employers. As you are working hard, make sure that you take regular breaks to keep your mind refreshed. The more productive you are, the more likely it is that you'll be promoted or recieve a good reference in the future.
Get a Raise and Salary Review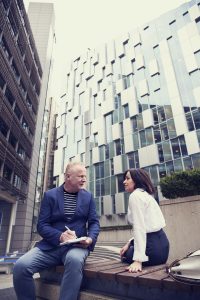 There are many things you can do to get a raise, or even a promotion. To do this, be sure that you're meeting (and often surpassing) what's expected of you at your company. You could also be proactive in asking for more responsibility and higher pay, if that's what you want. Above all else, be sure to ask about the possibility of promotion when the opportunity arises, as a bare minimum.
Build a Career You Love
A career you love is not just about the work you do, but also about the people you work with, the environment you work in, and the company culture. Building a satisfying and sustainable career is all about finding something that you are passionate about, feeling confident in yourself and your abilities, and building a resume that reflects your skills. It's important to express well what your skills are so you can match them to the best potential employers.
It is important to keep in mind that your career is a long-term investment. Nurture it and make sure that you are staying on top of the latest trends and developments in your field. It is also important to be creative and think outside the box when it comes to solving problems no matter what your job is.