Are you an entrepreneurial woman looking for lucrative business ideas? This feeling of wanting to start your own business can come at any time and with any life situation. I learned a long time ago not to fight these urges…or, at least not to the point of squashing my dreams. Fortunately, there are many different types of businesses that adventurous women can start. No, it's not an easy task, but it can be an extremely rewarding journey to see what you can do. So, let's take a look at several business ideas that just might be your thing…a couple of them were mine!
Arts & Crafts
There are many opportunities for those with an artistic flair to start their own business. Whether it's painting, sculpting, jewelry making, or even just crafting unique gifts, there is a market for nearly everything imaginable. Your arts and crafts can be sold online through an e-commerce store, traditional shops, or at art fairs. And with so many people searching for unique, one-of-a-kind items, an arts and crafts business can be extremely profitable.
Freelance Writer/Editor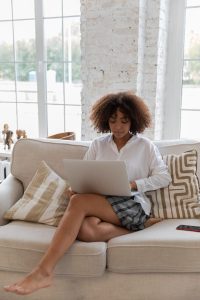 If you have a knack for writing and editing, I encourage you to consider freelancing. Many websites and publications need fresh, quality content and editing services. This can be a great way to make some extra money on the side or even turn it into a full-time business if you're able to find consistent work.
One thing to keep in mind with freelance writing/editing is that it's often best to specialize in a specific area or industry. This way, you can become known as an expert in that field and have an easier time finding consistent work.
Personal Shopper
If you love to shop and have a good eye for style, personal shopping may be the perfect business idea for you. Personal shoppers help clients find the clothing and accessories for everyday and special events. This can be a great business for those who enjoy working with people and helping them look their best. To get started, you will need to create a portfolio of your work. You can do this by taking pictures of yourself, friends, family, and your clients in new outfits shopped by you. It would also help to create a website and social media accounts to promote your business.
Handywoman
Starting a handywoman biz could be extremely lucrative, depending on what you want to do with it. You could do simple fix-it jobs or jump in with more complex projects. Of course, the latter will require more in-depth skills and education. You might even want to get some info on how to get your contractor's license and how to bid on jobs. Once you get the hang of it and get some experience, there is a lot of potential for making money in this industry. There are always people and businesses in need of repairs or renovations. 
Interior Designer/Decorator
With so many homeowners looking to renovate or redecorate their homes, there is plenty of work to be had in this industry. If you have an eye for design and know your way around a floor plan and a home store, this could work out well for you. You could work with clients directly or partner with home improvement stores to help customers choose the right products for their homes. I encourage you to put your twist on this type of business to stand out from the competition,
If you want to start your own business, consider all of your interests, talents, and education first. Also, do your research, create a solid business plan, and be patient. With hard work and dedication, you can make even a simple home business a successful venture.