Artists often engage in a tug-of-war between earning a stable paycheck and fulfilling their artistic expression. It's not uncommon for illustrators, writers, actors and other creatives to experience near poverty as they pursue their dreams. This is, of course, a conscious choice. These talented people often spend their developmental years honing their craft and not worrying about money or other marketable skills. But does this mean that one's art should be relied on to pay the bills? Does progressing in an artistic field mean you have to be poor for a period of time? Ultimately, the choice is the artists. However, there are artistic careers that come with a reliable paycheck. These well-paying jobs can be done while other art is pursued.
Artistic Careers That Come With A Reliable Paycheck #1:
Graphic Design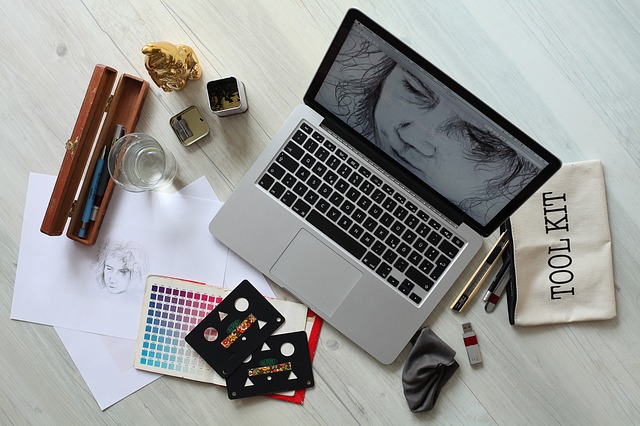 Graphic designers for the internet and hard copy work are currently in demand. If you can find the right job, it can also come with a stable, quality paycheck. Many companies have designers on staff to handle their websites, advertising, and internal graphics needs. There are also design firms that hire skilled people to handle advertising and business accounts for outside clients. And, if you're well-established in the industry, you may be able to receive a steady income from freelance work. Freelancing can also promote networking experience so you can land some salaried graphic design jobs. Many graphic artists and designers choose to hold down a fulltime job while pursuing freelance work on the side. 
Artistic Careers That Come With A Reliable Paycheck #2:
Film Crew
Working on a film crew is an artistic career that demands a high degree of technical skill. It can also net you some solid money, even if you don't work on any productions of high note. Graduate films, master's films, advertising, and commercials can offer a stable paycheck while you hope for something bigger. Entry level jobs like an assistant to a producer, lighting or stage tech, and photography assistant could give you valuable experience in the industry and lead to more lucrative creative work. Simply being around films and the people who produce them is a perfect way to get discovered as an actor, set designer, or one of many other creative jobs in film.
Artistic Careers That Come With A Reliable Paycheck #3:
Interior Designer or Decorator
Expressing artistic prowess need not be just on paper, canvas, or screen. Interior design and decor is a stable and lucrative field for the budding artist. Of course, you need a design degree and certification to be a working interior designer. So, know that you have an upfront financial investment in this one.
However, you don't need any special training to work as a decorator, only an eye for color, balance, and space management. There are also many retail businesses that hire people to merchandise and sell furniture and accessories for the home and office. I once worked as a design consultant in a custom furniture store and made really good money. As a creative woman, I loved that I could flex my design muscle and take home a stable paycheck.
I know that splitting time between artistic endeavors and making a living on a job can be frustrating. I've done it most of my life now as a writer. But, when the bills need to be paid, we have to do what we have to do. Mixing up freelance jobs and business with regular paid work helps to avoid poverty as we hone our craft. Look far and wide for opportunities to be creative and live a happy, fulfilling life.