As the body's largest organ, the skin has some specific and important needs to stay healthy and supple. I have raised 4 daughters who learned early to always take care of their skin. Now that they are all adults, they understand why I insisted on a quality skincare routine from an early age. At 50, looking much younger than I should, I'm damn thankful that my mother taught me the same thing. I'm sharing my secrets with you! Here are my top 5 skincare musts to look younger longer.
Skin Care Musts To Look Younger Longer #1: Wear Sunscreen Every Day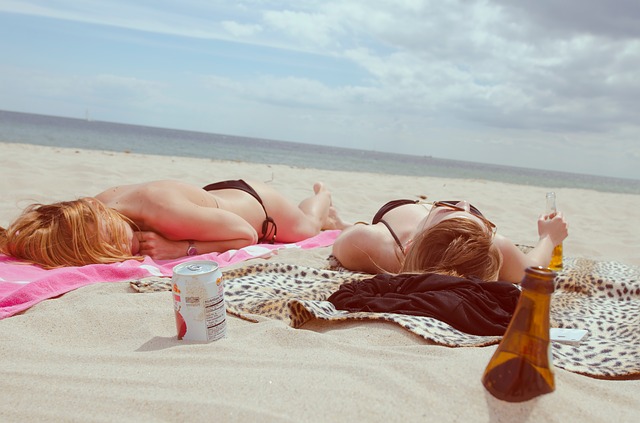 Apart from the 20 to 30 minutes of daily direct sunlight to build your vitamin D levels, wear sunscreen at all times. I MEAN IT! Sun damage is the number one cause of premature aging in women! And, know this, it doesn't start in your adult life. Children get burned and it damages their skin even though you don't notice it then. Protect those babies and yourself with quality products you trust. If you are more conscientious about the ingredients in sunscreen, opt for more natural products like zinc-based ones.
If you know you will be out for a long time or it is especially hot, choose a high SPF. Apply it thoroughly to shoulders, neck, backs of hands and feet, and any exposed areas. For your face, choose a product that has been designed for more delicate skin. You can also choose a moisturizer or foundation with an SPF included.
Skin Care Musts To Look Younger Longer #2: Shade Your Eyes and Face
As well as applying sun protection lotion, shade your face and eyes from the sun. A summer hat like these from http://hatswithheart.com with a pair of oversized sunglasses will give you some extra protection. You'll look ultra glam, and your skin will thank you for it when you avoid age spots, wrinkles, and even cancers.
Skin Care Musts To Look Younger Longer #3: Use Quality Products
Creating a skincare routine that works for your skin type and lifestyle is so important. One of the things I always tell people who ask what I use on my skin is to use the best products you can afford. I believe any skin care is better than nothing. Even just applying some moisturizer, lip balm and eye cream morning and evening will bring some results. If your budget and time allow, add a serum, facial oil, regular exfoliation, or cbd skincare private label products to your routine. For the skin care queen, try various products to see what works the best for you. Remember, what gives others results may not work for you. 
Skin Care Musts To Look Younger Longer #4: Get Professional Advice and Care
As well as your regular skincare routine, treating yourself to a professional treatment will take things to a whole new level. Estheticians are trained to know what your skin needs and how to deliver it. Facials, microdermabrasion, dermal planing and even a facial massage are all non-invasive, pain-free treatments which can stimulate and rejuvenate skin. They only need to be done occasionally but can make you feel good about yourself and keep you looking younger longer.
Skin Care Musts To Look Younger Longer #5: Stay Hydrated
Just because I've listed this one last, don't underestimate the power of hydration! As well as protecting the surface of the skin, you need to nourish it from the inside out. It's easy to get dehydrated when it's hot outside. Unfortunately, this shows quickly in your skin as dryness and fine lines. Drier skin is also more prone to damage, so you could even do lasting harm. Be sure to drink plenty of fluids (half of your body weight in ounces a day), and eat lots of fruits and vegetables that hydrate as well as provide you with nutrients.