Running a business with integrity and good values is the highest road most owners strive to be on. However, sometimes being good isn't enough to spare you from legal trouble. Often trouble comes when new business owners are uneducated about laws and how to operate correctly. Other times it shows up because other people bring it into your business. Regardless of how legal problems arrive, do know that you can look out for yourself by being prepared. Here are some tips for protecting your business from legal problems.
Get Professional Help with Compliance
One of the most challenging issues in operating a business today is compliance with labor laws, safety, and industry standards. For example, if you handle client data as a managed IT service, you have chain of custody rules to follow. Another example: employees have rights in time worked, wages, and things like privacy and harassment. These things can be challenging to monitor and get right. Furthermore, these practices must be honored by not only you but by all staff, and this is easier said than done. If training and protocols aren't enough to get the results you need, consider hiring a compliance consultant. With compliance revenue consulting, you can generate money by adhering to the required regulations set out by your country's government.
Retain a Lawyer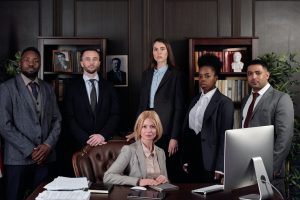 It's wise to have a reputable lawyer to call on should the need arise. This is because many legal issues come out of nowhere and can do a lot of damage if you aren't prepared. An attorney can help you deal with any legal problems or bump in the road related to your business in general, vendor deals, finances, employees, and personal matters.
If you don't have a lawyer, be sure to contact someone immediately if a situation arises. However, an unfamiliar legal team will take longer to respond appropriately. You can offset this delay by keeping a reputable law firm on retainer. For a monthly fee, a retained law firm will stay up-to-date with your company's legalities. Therefore, they are familiar with your business and can respond quickly to an incident.
Have the Appropriate Insurance
Most countries/states have strict insurance requirements for businesses. Of course, the types of insurance needed depends on the industry and specific business type. Though most businesses have to prove coverage to be legally cleared to operate, some cases slip through the cracks. This happens all the time because insurance is expensive and can be a strain on small, struggling businesses. That said, the cost of a major lawsuit or other problems can be far worse than insurance premiums. I recommend that you know what you need and secure the insurance that protects your business, employees, yourself, and others. Here are some of the best insurance policies for business:
Public liability: covers accidental injury to a client or customer.

Business interruption: covers for loss of sales in an incident, like a pandemic.

Business contents: covers relied upon items like stock, office equipment, and tools.
There are many other insurance types, and, depending on your business, you could benefit more from some than others. A good insurance broker can explain the costs, risks, benefits, and options of all insurance types for your specific business. 
Obtain Necessary Licensing
Most professional service providers such as health professionals, as well as manufacturing, building, and other commercial services, require licensing and permits to operate. For instance, you need a contractor's license from a state contractors' board to run a construction company in the USA. Operating without this, whether a business owner is aware or not, is an open door for legal issues to come through. Be prepared with proof of licensing for your business and employees (if applicable) at all times just in case problems arise. Additionally, make sure that vendors and anyone who does a job for you have the appropriate licensing as well.
Enforce Health and Safety at Work
Adhering to quality health and safety practices is one of the most essential parts of operating a business with integrity. Furthermore, it is also one of the best ways to avoid accidents and health issues that lead to lawsuits. Almost all countries have health and safety requirements, such as the UK's Health & Safety at Work Act of 1974. Essentially, they outline the responsibilities an employer has to keep employees and volunteers safe from harm while on the job. They initially related to things like PPE and training. But recent updates include protecting staff from mental and physical harm from things like bullying, harassment, and discrimination. To enforce the laws and your specific company rules, distribute an employee handbook outlining rules and any disciplinary action for breaking them.