As technology progresses, so does the need for tech businesses and jobs. As a result of this high demand, bigger businesses are looking to smaller companies to fill gaps in their business models and provide services they aren't equipped to handle. These facts provide women entrepreneurs with an extraordinary opportunity to create something helpful to the world and also advance women-owned businesses.
If you love working with technology and want to make your mark in the world, starting a small business may be right up your alley. But where do you start? What can you offer that others don't already provide? Here are four ideas for simple and effective tech-based businesses you can start today:
Installing Security Systems and Cameras
With the number of break-ins and robberies increasing in recent years, more and more individuals and companies are installing security systems and cameras. If you're handy with tools and know your way around wiring, consider a security installation company. What you don't already know, you can learn from taking courses or interning under someone already doing this type of work. While this type of business does require a little bit of upfront capital, it's relatively inexpensive compared to other start-up costs. 
Hacking Services
It sounds a little scandalous, but, the truth is, many companies are looking for ethical hackers to test their security systems and prevent major breaches in consumer information. If you're good with computers and have an edge with problem-solving, this could be the perfect business venture for you.
There are multiple ways to provide your hacking services. One way is to work for a company that needs testing done after being contracted. Another option is to start your own business doing independent testing. Either way could provide you with enough clout to create a growing ethical hacking company.
Cell Phone Repair 
No one likes getting their cell phone wet or having the screen shatter on them while they're texting and walking down the street. Because this unfortunate event happens more times than most would like to admit, consumers need a reliable cell phone repair business to count on. Your community could be just the place to start whether you have an actual shop or you have a mobile unit, it could be quite lucrative. As far as start-ups go, this one is easy on the wallet. You can find most of what you need by buying old phones and buying parts online as needed.
Device Repair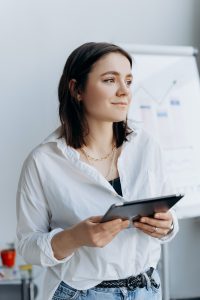 While it's easy to take their devices in for repairs at a big-name store like Best Buy, there are many consumers that would rather support a local business. With a a small amount of start-up capital, you could begin slowly by serving friends and family. Once things get more secure, you can advertise and welcome referrals. There's a high demand for this type of service, especially among older computer users who aren't quite savvy enough to handle their issues. 
Telecoms
Invest in an Earth Node for a global network and earn Telecom Cryptocurrencies. Basically, you could "run a small computer with an Internet connection, and secure the network for billions of people worldwide, earning the cryptocurrency, WMT." Blockchain technology is shaping the future today, you might as well be part of it.
In Closing
Consider starting your own small tech-based business if you're looking for change in your career. There's no reason to wait until you have the money and resources needed for a high-risk start-up. With some research and planning, you can develop an idea that fits your skillset perfectly. Just remember that if one venture isn't working out, you can always try something else.