Most of us know the benefit and allure of having outdoor space that offers peace, comfort, and style. Unfortunately, the space you have at present might not have these qualities. I recently moved to a new home, and though I have solid ideas about what I want my outdoor space to be, it is far from that beautiful vision right now. Changing anything about your home deserves some time and attention to get it just right. Here are some things I recommend to create an outdoor space that you love.
Consider Your Personal Style and That of Your Home
The first step in planning an outdoor makeover is understanding what style suits your home and your desires. If you are torn about what type of design to choose, you can always take inspiration from your favorite room in the house. After all, this room likely has some of your favorite items, colors, textures, etc. Think about your outdoor space as an extension of your inside space. You want it to be cohesive and flow well as you transition from one space to another. 
Create a Dining Area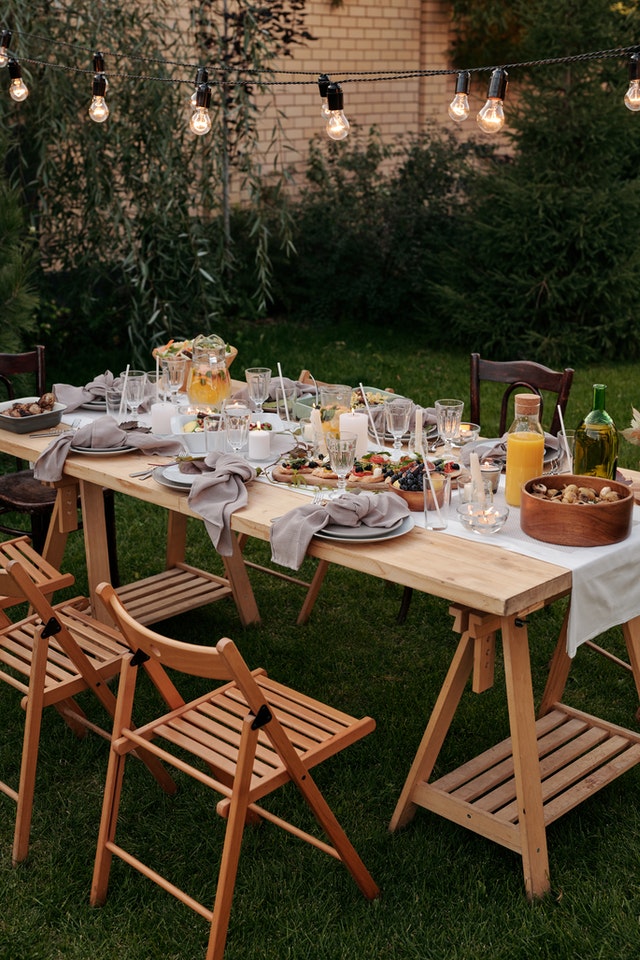 One thing that definitely upgrades an outdoor space is having an everyday dining area for you and your family. This might include a space for a grill, food prep, and, of course, a place to eat comfortably. Additionally, if you frequently host dinner parties with family or friends, consider this as you plan for seating and comfort for a larger group. As well as thinking about who will enjoy the space, consider the style and size of the table that will fit your patio dining space. For example, some areas will look and flow better with a rectangular table while others will accommodate an oval or round table. 
Use Outdoor Lighting
Adding lighting to your outdoor areas is a perfect way to create a pleasing atmosphere for lounging, cooking, and play. Depending on the space, choose lighting that gives the appropriate amount of light for night events. These can be permanent lighting fixtures affixed to a porch, side of the house, or landscape lamps. If you want to have more flexible lighting, consider using solar landscape lights, torches, hanging strings of lights, and candles. You may also want to consider ways to save energy when adding your outdoor lighting fixtures. A great way to do this is by using solar lights that come on only at night.
I've also seen some pretty fabulous spaces that are completely unique and cater to the owner's funkier taste in outdoor decor. Consider popping colored lights or even patterns that draw attention to specific areas. You could even create your own neon sign online and really show off who you are or the desired message.
Add Plants and Flowers
You can also create an elegant, energetic space with the use of potted plants, flowers, or sculptures that bring out your personality. I love to create a color scheme with flowers that fit in with the exterior of my home. Plants also help us to have a sense of peace and security…at least, they do me. You can also add couches and settees to go with the color scheme you choose. I recommend placing them in areas that feel the most comforting.
Don't Forget the Floor
Just as you want your interior flooring to feel cohesive and comforting, you'll want your outdoor space to do the same. Adding an area rug to a patio, deck, or porch is a perfect way to tie other decor elements together. Make sure you choose waterproof materials for rugs, cushions, and anything that will be exposed to the elements. 
For bigger changes such as redoing concrete or a wood structure, I recommend consulting with a professional. They can help you choose materials and stick to a budget. If completely redoing a space isn't in the cards right now, try sprucing things up by power washing your patio or deck to make the flooring look new. 
As you use your outdoor space more, you and your family will be able to fine-tune everything to further meet your needs. Just remember to enjoy the space you have no matter what stage of refinement it is in. There are always simple, inexpensive things you can do to make a space more functional and appealing.