It is a fact that we all have those times when life seems harder than usual. It can be difficult to keep a positive outlook and make decisions that serve your life. If this isn't you right now, be grateful. Do also understand that there are likely people around you who aren't so lucky. There may even be someone close to you who is going through a tough time. Tread lightly with anyone who might be challenged right now. However, know that your kindness and inner light can make a difference for them. Here are some ways to support a hurting friend.
Help Them See Their Worth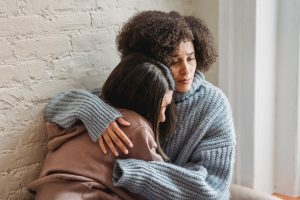 A part of being a good friend is showing them that they are valuable and needed. Consider your words and actions carefully as you interact with a hurting friend. Know that they might be feeling guilty for being down or unable to perform responsibilities. Feelings of inadequacy can hinder the desire to socialize and talk about their problems. Be gentle and always offer your support no matter how bad they think things are. It is common that depressed people criticize themselves, finding it difficult to see their gifts and contribution to life. Showing unconditional love and support is a strong way to bridge this gap for your friend.
Set An Example Of A Positive Mindset
If you have a positive mindset, your words and actions can have a calming influence on your friend. Be careful not to flaunt your good fortune but share how changing your perspective has changed your life for the better. Stories and personal accounts of overcoming are easier to relate to and tend to make more sense to someone who is having a bad time. Do also let them know that you are there for them even though they aren't thinking positive right now.
Look Into Professional Help If Needed
If your friend is not responding to support and care from you or others, they might need professional help. You could contact some therapists or rehab centers on their behalf if the situation warrants it. They may be reluctant at first, but getting outside help could be the breakthrough they need. This is expecially crucial if they are using alcohol, drugs, or other non-serving coping methods. Do also consider contacting their family or other friends for tips and additonal support options.
Build Their Social Skills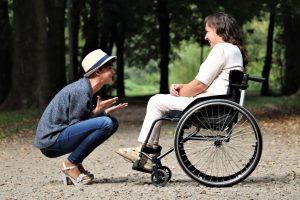 If someone has a lack of social skills, even the most basic social interaction can be terrifying. This could be one reason why your friend is not doing well. Isolation is a huge contributor to depression and anxiety. Encourage social interaction with trusted friends and family to build trust. Even online socialization is a good way to help them feel involved and connected.
Offer Consistent Encouragement
One of the best things you can do for a friend in need is be there for them consistenty. In other words, don't drop in occationally and expect them to trust you and your support. A daily check-in call or text can mean so much to someone who is hurting. It helps to consider how you would want to be treated if it were you. Act sincerely and encourage from your heart. Remember, they don't need your perfection just your effort.