If you love planning, designing, and working with people, event planning could be a satisfying and profitable business path for you. Do keep in mind, however, that there is more to operating any business than simply loving the work. In this article, we will explore some of the basic elements of starting and running an event planning business. 
Write Your Business Plan
If planning is an exciting passion, you'll likely enjoy business planning as much as you would enjoy the daily work as an event planner. Start by researching other event planning businesses in your area. How many are there? What is their focus? Perhaps some of them specialize in weddings, corporate functions, or non-profit events. You could see a need in your town that isn't being met by exploring what options already exist.
Market research, as well as financial projections, will bring your plan to life by giving you a glance at the possibilities. Do know that things don't always go as planned…and, yes, you will learn that quickly as an event planner. Anyway, be realistic, but allow your hopes and dreams to be represented in your plan. I do also recommend using a business plan guide, template, or consulting with a professional to give yourself the best platform on which to build.
Consider Marketing 
Though marketing should be covered in your business plan, it's important to understand it can be a huge variable in the building of an actual business. This is because we experience shifts in almost every aspect of life. Take the pandemic for instance; our world is not the same as it was before. Operating businesses is not the same as it was. Can you imagine the disappointment of the business owners that wrote well-intentioned plans, believing that they could follow them with no issues? So, in a nutshell, plan for the best case, but be damn sure to also have a contingency plan for the worst-case scenario.
During your research, you can also look for the social media channels used by other event planning businesses, which can help you make sense of what could suit your business. Check out 5 Ways To Grow Your Business Faster Using Social Media. Remember that events are visual, from the Richard Haworth tablecloths gracefully placed at a reception to the staging of a romantic wedding ceremony – people want to see what is possible, what you can do for their event. Your business page will become an inspiration just as much as a place to advertise. Think about flyers, online adverts, business cards, and a website as a minimum. 
Consider the Scope and Capabilities of Your Business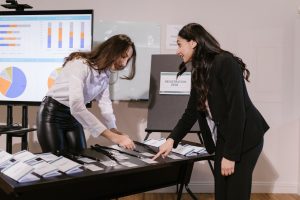 Before you get your business off the ground, it is wise to consider the scope of the projects you would like to take on. Of course, you might not completely know what you want or can handle until you get in the thick of it all. However, think about what brings you joy and what stresses you. Finding a balance will ultimately keep you coming back for more in the event planning business.
With service-oriented businesses, it can be easy to over promise and run out of time during a project. As you nail down what you can do, be realistic about what is possible, especially if you aren't in a place to hire help. And, I will say this: loving your work so much can get you in trouble because you don't want to say no to anyone.
It can be helpful to have clear information about what you do and what you can't on your website, so potential clients can understand what to expect before they hire you. There will be times when you will have to turn down a potential client because their expectations and your scope do not line up. it's beneficial to hold firm boundaries as you move forward. 
Choose a Clear Name 
It makes perfect sense to have an event business with 'Events' in the name. That said, there aren't any rules set in stone when it comes to creating your unique business. Do you, and name it what feels right to you. No matter what you choose be clear with your name, so potential clients understand what you do or what they will experience. Not to mention, search engines will pick up your name if people are doing searches for certain things like wedding planning, events, etc.
Your business name will be one of the things that clients will remember, and while it doesn't need to be nailed down at inception – it helps to have it fairly early on in the planning. To come up with a name, you can start writing down words that you associate with the business, your passion, and the emotions you want clients to feel. From that list, narrow down your favorites and discard the ones you definitely won't be using. With each of the words that are left, start checking if there are any synonyms or better variations that feel good to say. You might also consider naming the business after yourself – or combined surnames might work if it is a partnership. Perhaps the most important part is that it should be simple to remember and easy to type. If people are looking for your business online, complicated spellings can impede this process. 
Work out the Branding 
Your branding will tell potential clients a lot about you before they have met you. The colors you chose, the font, and the website's style will all impact feelings and confidence in your business. If you are at a loss with this part, consider consulting with a branding expert to get some feedback on your ideas. 
Your branding will need to feel professional across all of your channels, and using your target market will be a critical part of getting it right. Think about the impression you want to give – do you want to cater for high-end exclusive corporate events? Or were you thinking about children's birthday parties? Make these decisions early on in the process because they will dictate everything you do from that point. 
Set Your Pricing 
Executing events is a lot of work, but it's not just the setup and the event itself. The majority of your time will be spent researching and putting it all together. Additionally, you'll spend a lot of time breaking down the room once the event is over. I highly recommend that you consult with other planners to understand exactly what to expect before setting your prices. Many things pop up within the course of planning and expediting an event. Unexpected setbacks or changes in design can mean the difference between making a profit or finding yourself in the hole. You can play with pricing using your preferred suppliers.  As you gain experience, you can revisit this pricing structure to bring the most value to clients but also a profit to you.