SHE'S A BIKER, SHE'S INSPIRATIONAL AND SHE LOVES COUNTRY DRIVING, meet Karin Dart!
She's another long standing friend of mine from my own home town of Adelaide.  Please welcome bikie, KAREN DART, mum to five boys and grandmother to her gorgeous granddaughter, Hannah.
One of five siblings, Karen was born and raised in Adelaide by her father- a business owner, who sold art supplies to schools and local artists.  He often told Karen to travel and find her own way in life, and that's exactly what she has done.  Her first trip was to Qld (Queensland), and it seems that's where she was actually bitten by the travel bug.  Then foreign shores beckoned and, at the ripe old age of twenty one, she headed to the other side of the world, to the UK.  Like for many of us, (in those days, anyway) there were times when money was a tad scarce, but we all lived to tell the tale.  Karen was still able to live and work in the UK for awhile, as well as visit parts of Europe and Scandinavia.  She also made many new friends before returning to good old Adelaide in South Australia.  And, once back at home, she met and married her husband.  Ten years later, they were the proud parents of five boys.  Sadly, however, the marriage did not work out and, after thirteen years, they divorced.
Time was precious as a single mum and having to work to support her family.  Her various jobs ranged from selling clothes, running the school canteen and childcare. She decided to go back to school to increase her employment prospects.  Karen passed at TAFE in aged care, disability, leisure and health, earning a Certificate 3.  She was then able to work in other fields including community care for the aged, palliative, dementia and disabled.  Karen became a caregiver because it meant she could work when the boys were at school. And, as it turned out, she did night shifts at a venue across the road from her house.  She could actually check on the boys on her breaks. Believe it or not, as Karen says:  "I laugh now to think I always wanted to be a hairdresser when I was young – and to think when I was in the UK I did not get my hair cut for over three years." She adds that these days she has to be told to have her hair cut by her husband.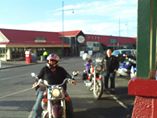 In 2006, Karin moved to Broken Hill- a town just over the border from her home state of SA, in NSW.  While it was a big move, she did have many friends there already, and she had decided that it was time for Karen.  This is also the time when motor bikes entered her life- her first one being a Honda 250.  But Karen was not completely new to motor bike riding. She had ridden a few times through her life prior to this, and she has always encouraged her sons to ride as well.  The first time she rode one was as a child on her auntie's farm south of Adelaide –the place where  she first felt freedom!  But, years later, while in her late 40's, she was determined to get her license (which she did – but not until after a lot of gear crunching and rather slow riding) and she finally also got her pride and joy – a Honda 750 Shadow! It was her turn again and she was determined to make a go of it.  Hence, her love for motor bikes was re-borne and thrived.  It was also the move to Broken Hill that saw her supporting disabled clients, which she also now does back in Adelaide, as she has since returned to SA to live.
She does belong to some motor cycle clubs, too.  Ulysses being one and she now travels around the nation with her friends from this club.  She rides with them up to Townsville for their AGM – leaves her feeling a tad stiff and with a sore bottom but well worth it.  Another group is G.H.O.S.T. Riders (Grey Haired Old Sports and Tourer Riders).  Also Shadow Riders.  Apart from sharing a love of motor bike riding, these are all also very social clubs.  Karen does love riding with her friends.  It seems a lot of tall stories and laughter are swapped when they stop for coffee or lunch.  But, sometimes, all she wants to do is ride.  She does add:  "When you ride you might have fellow riders nearby, but you are alone in your thoughts – not like a car where you listen on the radio or chatting to someone."
Inspirations?  Karen does not feel she had anyone in particular to inspire her.  She has always just moved on and tried things.  "I don't believe in settling down, and my aim in life is to see and experience things," adding that she likes to understand what makes people tick.  Sometimes she might appear to be quiet (who….Karen???) but this doesn't last for long– it just means she is working things out.  "What makes me happy is people smiling and laughing.  By travelling, I have learned you don't have to be rich to be happy."  Never a truer word was said!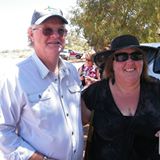 And spare time?  What spare time?  "Spare time is what I always look for."  She loves riding and when there is a ride on, she loves going with her husband (Steve) to join their friends riding in the hills or along the coast, mainly south of Adelaide.  But she does have other interests including reading – and just plain relaxing.  Naturally, she loves having time with Hannah, cooking and watching videos (the latter she says is a good excuse to watch kid's shows).
Karen has some advice for other riders, particularly young ones.  She gets very upset when she sees youngsters riding bikes or scooters, wearing only shorts, or just tops and thongs.  She feels that they think if they have an accident, they'll just hit the road, bounce and be fine or it won't happen.  Karen has personally had a few experiences where she can completely support these feelings and advice.
And in parting:  "You're never too old to learn.  I was in my late 40s when I decided to learn to ride and here I am, still riding and having run.  Riders come in ages young and old and you always look out for each other."  She does add that, over the years, she has lost a lot of good friends, fellow riders, mainly through cancer.  "But I know they are riding up there with the wind in their faces and having a great time."
What a way to go!  And remember, as Karen says, "You really are never too old to learn."  Go Karen!