With Kori Kovacs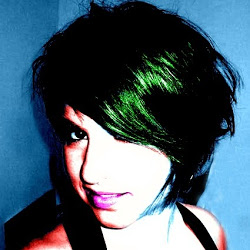 Continuing on with our quest to Crack the Body Enigma… Today we are discovering the Irresistible Inverted Triangle!  You, my dear lady, are blessed, truly.  My favorite IIT would have to be be Jessica Simpson.  And I'll tell you why: This woman is a talented designer and businesswoman, gorgeous, and hilarious to boot.  But I have seen some of the terrible things said about her and her struggle with weight, especially before and after the birth of her daughter, Maxwell.  And it breaks my heart, because people can be so quick to judge the celebrities, they eat one french fry and it's on the nightly entertainment show.  So, my point is… don't spread negativity with your mouth!  Especially about yourself!!  It creates a world that you DON'T want to live in.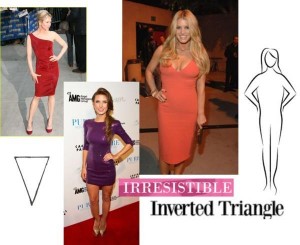 Ok, I'm off my soapbox for the day, let's get down to biznass.  Not sure if you are an Irresistible Inverted Triangle, take a look at these specs:
– Broad shoulders
– Top half of body is wider than the bottom half
– Medium to full (sometimes REALLY full) bust
– Narrow hips
– Nice legs!
The key to working the IIT is to balance your bottom half with your top half! And oh my gosh show off those gorgeous legs your momma gave you!!!  If you are like Jess Simpson and blessed with ample assets, it's also important that you get a GREAT fitting bra that provides support.  We don't want those sweater tigers getting out! I suggest you find a salon that sells European sizing and offers personal appointments for fitting.  I've been going to one here in VA Beach for years, and the difference is INCREDIBLE!
Here are some other great Do's and Don'ts for the Irresistible Inverted Triangle:
DO

balance your top half with darker colors on top, lighter colors on the bottom (low and behold, colored jeans are in!  Use them!)

DO

wear skirts with a trumpet, tiered, tulip, or A-line shape…. it will bring balance by evening out the bottom half with volume!

DON'T

wear ruffles, shoulder pads, multiple layers, or anything to create bulk on your top half.  Clean shapes like a scoop or v- necks are a better choice!

 DO

sport boot cut, flared, or wide leg jeans or trousers…. again, the object is to balance out the top!

DO

smile…. it's your best asset!
Well ladies, I'm going to return to keeping the country safe by standing watch over the future of our United States Navy… Next week, we'll be looking at the beautiful Diamond Divas and all their attitude and fabulous they bring!  TSP, out!