With Kori Rae Kovacs

As promised, we are tackling another body shape this week!  Let's talk about the Terrific Triangle.  This is a very common body shape that I come across in my image consulting business, and often times the women I work with don't realize the fantastic shape they have!  Just look at some famous Terrific Triangles in Hollywood: JLo, Beyonce, Rhianna, and Tyra Banks.  A prominent men's magazine just recently named Beyonce the Hottest Woman of the Millennium…. and if any of you watched the Big Game Half-Time show…. you would agree!  The point is, a woman doesn't have to be a Hottie Hourglass (the "ideal" shape) to have a great image!  That said, there are some clothing tricks to help the Terrific Triangle feel more balanced.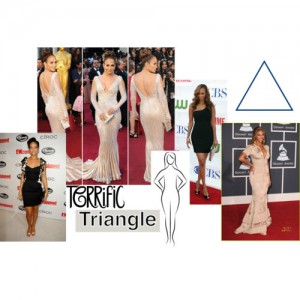 Not sure if you are a Terrific Triangle?  Check out the specs:
– Have full hips and/or thighs
– A defined waist
– Shoulders that are narrower than your hips
– Your top half appears small compared to your lower half
If I was a betting woman, I would bet that if you are a Terrific Triangle, you're hips, thighs, and butt are probably your "trouble" areas… the places you feel a little insecure about.  So let's change that thought process to something a little more positive!  What do you love about your body?  Your decollete? Your arms? Your shoulders? Your waist? Your neck?  The great news: you get to play up all of these places!  Since a Terrific Triangle's lower half is more prominent than her top half, we can use some pretty cool tricks to make the eye think everything is proportioned.
Here are some quick Do's and Don'ts for the Terrific Triangle:
DO follow the basic rule: Light colors on top, Dark colors on the bottom.  You'll bring attention upwards, and draw attention away from your lower half (in a good way!)
DO play with patterns and textures on top: Ruffles, florals, layered tops, horizontal stripes are a great way to create a balanced top.
DON'T wear halter tops or tight-fitting single layer tops…. It draws the eyes downward!
DO wear lighter, fluid fabrics on the bottom that flow away from the widest part… think jersey (your lower half''s BFF!), wide-leg trousers, and trumpet shaped skirts
DON'T let jackets and tops stop at your widest part…. Cropped jackets are great for you! (And they are really hot right now!)
DO smile…. confidence is EVERYTHING!!!
Well there you have it Terrific Triangles….. just remember that you have a beautiful shape and don't be afraid to shake what your momma gave you! Next week I'll be giving a shout out to all those Ravishing Rectangles! Till then, TSP signing off!