Organic Trend
Although the terms "health" and "fashion" may not be commonly used together right now, I believe we will soon see a deluge of "organic/healthy" clothing and accessories that takes us to a new era of  living healthy and looking great while doing it.  Since I'd like to see every woman consider the "Be Well-Be Beautiful" concept as a lifestyle, I thought we could take a look at some of the products that are currently offered in the market.
My research first took me to the definition of "organic clothing" which is as follows:  Organic clothing is clothing that is made from materials that are raised or grown without the use of chemicals in the form of pesticides – herbicides or other chemicals.  Among others, Turkey,India and the US produce some of the finest organic fibers in the world.
Health Benefits of Organic Material
To even think about making a change to "earth-friendly/healthy fashion, we must first understand the driving purpose for such a shift in trends.  Because ultimately all of our environmental-saving efforts are set forth for the benefit of prolonging and enhancing the lives of humans, we must consider how it affects our personal health first.
Wearing clothing made from organic materials reduces the onset of allergic reactions, including, skin irritations, respiratory ailments, and eye conditions.
The natural fibers will not block or change the energy flow in and around your body as some synthetic products can.
Organic materials are machine/hand washable which reduces the exposure we have to dry cleaning chemicals.
Natural fibers allow your skin to oxygenate more efficiently as well as release toxins through perspiration and skin oils.
Children/babies especially will benefit from all-natural clothing products as they are more susceptible to chemical sensitivities.
Environmental Benefits of Organic Material
Authentic organic fabrics and clothing can also help the environment in a number of ways.
The manufacture of chemicals is not required.
Chemical residues are not entered accidentally into the environment.
Humans and animals are not exposed to factory chemicals.
When the fabric is no longer used, chemicals are not returned to the earth in landfill, or enter into recycling process.
Stylish Organic Clothing
Now, to the fun part of my research -the clothes!  I took a peak around on the web and found the following articles of women's clothing hip, stylish, and healthy!
The first interesting healthy fashion find is made from the unlikely source of bamboo.  I know… it sounds like something that would be itchy and not very pretty; however, to my surprise, it is the opposite.    The material actually feels similar to silk but has a durability that silk can never offer.  Sweet Grass, a company that sells all-natural clothing and accessories has a nice collection of stylish pieces that any woman could easily add to their current wardrobe.
Owner and founder, Paige Morse, started her quest for a career in fashion design in the late 1990's. But in the souks – or markets – of Morocco, Egypt and Turkey, she fell in love with textiles and color, patterns and hue. A creative fire was sparked.  After more world traveling and meeting some wise people, she formed the vision that sustains herself, her community, and the planet.  Today, located in southern Oregon between the Cascade and Siskiyou mountains, Sweetgrass has grown into a premier eco-fashion company.
Next, we will take a look at California Rising, a 100% organic and sustainable shop that caters to both sexes, but started out with an emphasis on the guys. Let's just say it appears the ladies have caught on to their cool styles as well. Celebrities enjoying the brand include Amber Valetta, Khandi Alexander, Rachelle Carson , Carnie Wilson, John Salley, Ryan Seacrest, and others. California Rising also provided all the tees for the 2007 "Green" Emmy Awards and made a splash at the last MTV Video Music Awards in Vegas.  Please visit their site to check out their fine selection of clothing.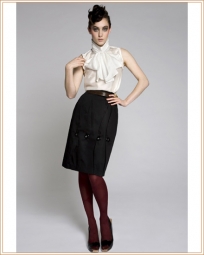 I fell in love with this beautiful blouse from retailer Juno and Jove.  With clothing available at their online "emporium," you can find the latest in health-conscious fashion by some of the leading designers in the field.  The brilliant designs of British Columbia based company Evan and Dean are hip, fashion forward, and made from organic materials.
Other Juno and Jove designers include, Zimmerli of Switzerland, Nature by Hand, Toby Pomeroy (jewelry), Karla Colletto (swimwear), and many more.
Changing anything about our lives, whether it be by adding a few more squats at the gym or buying organic clothing, can be a challenge if you can't see the benefits.  I hope you have learned at least a little more about healthy fashion and how it can serve humans and our environment.  Find more information on using organic material in the book Sewing Green.  Happy shopping, and remember to be well-be beautiful.
Photo by Hexreedwitch