Do you remember  falling off your bike and skinning your knee as a child?  Boy, did that hurt.  I would run home crying, expecting that my mom would fix me up with peroxide and a bandaid.  With the mom-love-laced patch up job, I'd run right back out the door for some backyard frolicking.  The knee was sore, but I didn't care.  Proceeding to the muddy area in which my brother and I would play with Matchbox cars, I obliterated the bandaid and mushed God knows what into my ravaged cut. I have shivers just thinking about it.
Mom scolded me for not keeping it clean; marched me up to the bathtub where I got a good scrubbing; and once again,  she fixed up the boo-boo.  "Now let it HEAL!"  Though, I likely hated her stern words back then, they do make sense to me now.
The Healing Process
Like our physical bodies, our emotions go through cycles of healing.  When they are damaged, we have to protect them from further invasion and let them heal.  I ask you today; are your wounds healed?  I have some spiritual/emotional peroxide and bandages for you.  We must guard our hearts with wisdom and caution when we've been hurt – a bandaid of sort.  The sooner that we acknowledge our need for tender care, the faster we begin the healing process.  And when we heal, we can go play "in the backyard" again.
Picking Your Emotional Scabs
Just like when I carelessly ignored my bloody knee as a kid, we can avoid the fact that we have been wounded inside.  There we are, out there with no protection because we don't think we need it.  Though the wound will still scab over, tissues below the surface may be festering with toxic bacteria.
I was a scab-picker.  There was something about reopening my cuts that just fascinated me.  I was called a vampire by most of my family.  Yeah, I know it's gross.  Anyway, every time I chose to peel away the only protection my poor old knee had, it took even longer to heal, not to mention the horrible scars I would get as a consequence for my morbid fetish.
We can actually pick our emotional wounds as well.  You do this by beating yourself up for mistakes – the would have-could haves.  That hindsight always stings so badly.  The other thing that we do is go back to the thing that is hurting us, ie., an abusive spouse, a dead end job, drugs, etc.  You get it.  It's trauma.  And it's going to take time and change to heal.  So, today pay attention to your heart; listen to what it's telling you about the condition of your inner soul.
Resources for Inner Healing
One thing that I find relaxing and quite effective for acknowledging emotional issues is the Emotional Healing Kit that I received fro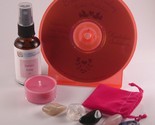 m my friend Konstadina from Art For Empowerment.  I am able to lay back and relax with the instrumental music and voice led meditation – something that I consider a luxury.  At first, you may not realize what is happening deep inside your being, but I know that taking the time to focus on emotional healing helped me feel more whole.  It has no religious undertones, so no matter what your spiritual faith is, you can incorporate it.
The package itself is a neat little bag filled with a CD, a candle, aromatherapy spray, and some really cool stones to promote positive energy.  And, did I say it's all pink!  Also, Konstadina's voice is soothing and quite pleasant to listen to as you journey to let go of toxic emotions and events. The Emotional Healing Kit is available at Art For Empowerment, $25.
Alternative Therapy
I also recommend EFT (Emotional Freedom Technique) to anyone who wants to get to the bottom of deep set emotional trauma.  Just find a certified practitioner for the best results.
Good Book
Lord, Heal My Hurts: A Devotional Study on God's Care and Deliverance is also a wonderful guided journey to find peace with your past.  I remember writing, crying, and letting go of many traumatic wounds while working my way through this Christian based book by Kay Arthur.  It is a process, though, that you must commit to in order to achieve optimal results.
Please tell us about any events in your life that you have healed from.  Your testimony might encourage someone out there.  Be well-be beautiful
Photo by ikate