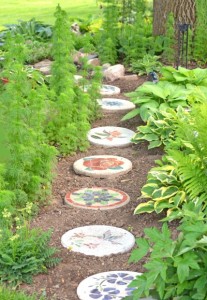 Stepping stones of all shapes and sizes are used in gardens to make the path easier to see and also to make it more decorative. Something I find interesting about stepping stones is that the path has already been chosen by the gardener and then she lays the stepping stones. Some decorate the stones with beads, gemstones, glitter and other smaller stones and glass to make the stepping stones more distinctive.  This gives us an awesome analogy for our lives.
While some pathways have stepping stones laid out in a precise fashion and order, others are bland and just there for the need to have a pathway. Either way, without tending, a path gets weeds, dirt, and unwanted debris on the path. And, sometimes, that path breaks down from the weather or constant use.
While many of us use walkways of all kinds in our daily life, from sidewalks to dirt paths, there is one thing for certain:  Sometimes something or someone gets in the way of the path we are on.
We all have those moments in our lives when we look back and we say, "Wow! I wish I had done that differently!" We have also had those moments when we regret something so much we cannot get past it. These are the past failures or situations that we believe are keeping us from reaching our goals…the stumbling blocks.
Someone once said,  "If your past hinders your future, then you have allowed the situation to control instead of taking control of a situation."  That wise person also said that stumbling blocks CAN be stepping stones.  ANYTHING we feel has gotten in the way of dreams can be  a stepping stone IF we see the lesson in it.
Trials can be triumphs. Mistakes can be miracles. When life hands you lemons, make lemonade. Many of you have heard these positive statements.  Walk on your stepping stones, don't stumble on your past mistakes. Look forward instead of back. Burn some bridges to build some new ones if you need to.
Life is too short to beat ourselves up over what we were not able to do in the past. What about now?
Walk on your unique stepping stones.
Decorate them with intent!
Promise to give yourself the time it will take to move forward.
March  into your life with your head held high, knowing that you CAN accomplish anything you set your mind to!