We have a guest post for you today by travel writer, Danielle Aldulescu.  If you ever thought it impossible to lose weight while on vacation, think again.  Danielle gives the 411 on some chic holidays for those who want to slim down and have a blast while doing it!
BE YOU!



The Benefits of a Weight Loss Holiday
By Danielle Aldulescu
A recent NHS study revealed that almost a quarter of adults in England are clinically obese, with a Body Mass Index (BMI) of at least 30kg/m2. Even more are overweight (a BMI of 25-30 kg/m2) and the problem certainly isn't restricted to the UK. Obesity is on the rise throughout the developed world, with comparable or higher levels in most of Europe and the USA.
This rise in obesity carries with it all sorts of associated issues, from serious health concerns including increased risk of heart disease, strokes and diabetes to issues of self-esteem and appearance. It's little wonder then that so many people are desperate to lose weight. Fad diets and miracle pills are offered up as quick-fix solutions but the truth is that the only way to lose weight and keep it off is to adapt a healthy diet and lifestyle.
This can be difficult and many people struggle with issues of motivation in the face of stressful modern lifestyles. A basic lack of knowledge of stress and health management can also hinder long-term weight loss goals, and many people are finding that weight loss holidays can help kick-start or augment their healthy lifestyle changes.
What is a weight loss holiday?
A weight loss holiday is quite simply a holiday where relaxation is combined with weight loss and fitness goals. Generally they are less structured and extreme than fitness boot camps, but with a little more guidance and assistance on tap than a traditional spa break, with all the facilities and knowledgeable, well-trained staff ready to help you achieve that first step in adopting a healthier lifestyle, or to help assess and fine-tune any regimen already in place.
A well-run weight loss holiday should certainly see you lose some weight over the time you are there, but it shouldn't be seen as a quick-fix solution. The ultimate goal should be to help facilitate a long-term healthier lifestyle that will lead to the pounds dropping off and, more importantly, staying off.
Stress and Health Management
You may have decided that you need a healthier lifestyle, but it can be difficult to affect major lifestyle changes without help. Modern lifestyles can be extremely stressful and stress can lead to overeating cycles and unhealthy choices. It's difficult to find those spare hours to spend in the gym if you have deadlines to meet or a family to look after, but staff on a fitness break can offer useful help and advice when it comes to stress and health management.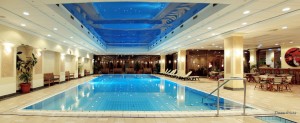 Stress-busting treatments and fitness courses will be available over the course of your stay, but you will also receive tips and routines that you can take back home with you and apply to your daily life.
What treatments are available?
All manner of treatments will be available and could include:

Where to go for a weight loss break:
Weight loss breaks and holidays are becoming popular throughout the world, from purpose-built resorts in the USA to specialist hotels in Hungary, Spain and the UK.
In the United States, Vermont's Green Mountain at Fox Run claims to be "the country's first and only non-diet healthy weight loss retreat for women only", but even a cursory online search will turn up many alternative locations for men and women alike.
In the UK, companies such as Slimmeria offer luxury retreats in country-house accommodation while, further afield, Danubius Hotels offers a range of well-appointed, health-orientated hotels in locations including Hungary, Romania and the Czech Republic.
As with other good weight loss holiday destinations, they will offer you the chance to rejuvenate and re-motivate, or to kick-start a healthy change that will stay with you for life.