I'm always on the look out for ingenious ideas to help release creativity.  One trend I've noticed lately involves groups of people getting together at a local bar, restaurant or designated studio to explore a specific creative medium.  There is one in Indianapolis called Wine & Canvas.  The participants gather for drinks and are instructed, step-by-step, on how to complete a beautiful painting.  I haven't personally experienced one of these monthly events, but I've talked to others who have.  The results are amazing, even for those who don't consider themselves artists.  And they always say how much fun it is to relax and be creative without reserve.
These are so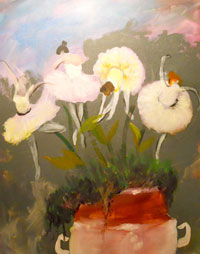 me of the actual participant paintings.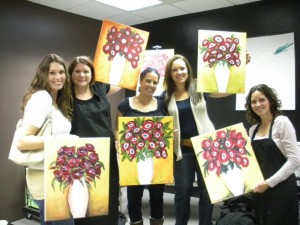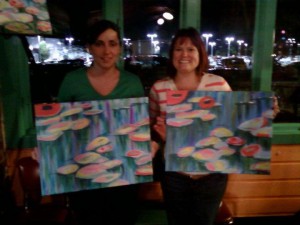 Notice the great big smiles on their faces…give me some of that!  And what a fabulous gift idea for just about anyone (over 21, of course).  The Wine and Canvas website sells gift certificates!
I also recently read a post on one of my favorite blogs that talked about another interesting creative gathering.  Instead of Wine and Canvas, it was Wine and Poetry!  I could get into that scene as well.
Click here to read the complete post at 3 Shared Paths.
These brilliant business ideas have got me thinking about what other creative mediums could be coupled with wine events…
What creative fun would you like to experience in a social setting?
Be Beautiful-Be Creative-Be Happy!