So your business is already thriving, but you want to make sure it stays that way. Can you imagine how you'll make it more successful? It's those imaginations that will be a bridge to your dreams and all the levels of success you want to achieve. Maybe you have a thriving accounting practice, or perhaps you are in marketing because that is the field you love. Perhaps you are the owner of a great restaurant or are self-employed and have been for some time. The important thing is that if you want more success, it's more than possible to achieve it with the right steps. Read on to discover three ways to increase business success at any level.
Help Your Employees Grow Their Skills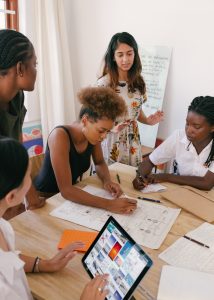 When employees grow their skills, you'll have more opportunities to train them to do new tasks and become a more efficient company. This will lead to more opportunities to help customers, and you'll have more ways to help employees feel confident in their skills and complete their job better. 
Additionally, word of mouth is an incredibly powerful tool for any business, and it usually happens organically. But if you have employees who are willing to speak up and say positive things about your brand, you'll have an even more significant opportunity to grow your network and gain new customers. 
Grow Your Network
Networking is a superior way to grow your business naturally and sustainably because you'll have more opportunities to talk with others and learn from their experiences. When you have a network filled with strong, competent people, it's like having a wall of unbreakable stone around you and your business. The days of going it alone are long gone. Embrace other business owners, vendors, and clients on your journey to greater success. Networking can help you build your reputation, expand your customer base, and even lead to new business opportunities.
Consider New Financial Opportunities
One of the most traditional ways to make more money with your business is by investing in outside things like stocks, bonds, real estate, or other commodities. Another way larger companies bring in cash is by making stock shares available to investors. These offerings are a way for companies to raise capital by selling shares of their company so that investors make money from that company's growth. Issuing a commercial bond can also help increase your company's financial situation and help you find new financial opportunities. It is always possible to find new ways to get investors and increase revenue for your company.
Whether you are an established business or just starting, there are always ways to grow your company in ways you may have never even imagined. I highly recommend looking at all of your options and speaking to a professional business advisor about your specific case. Remember, you know your business better than anyone else, so focus on what you do best as you consider new ways to grow financially and in brand strength.