You likely spend a lot of time in and around your home, especially during the past couple of years with the pandemic. You might have invested substantial time and money into it, so it makes sense to utilize the space fully and make sure it stays safe and in good condition. I recommend doing a good walkthrough to determine if any areas need some attention. Also, make note of how you feel in each room and outdoor area. This will help you to understand what you could do to more fully enjoy your home. Here are four things to consider doing to enhance your home experience.
Embrace Your Style and Decorate to Show It
If you want to fully enjoy your home, take the time to discover what colors, textures, and images make you feel good. Decorate your favorite spaces according to what you find out. Embrace your style to represent who you are as a woman. Small unique details that represent parts of you add more appeal than generic cookie-cutter items. This is even more true when you display items and pieces that you emotionally respond to and cherish.
Some good examples are hanging family photos in vintage frames from your ancestors and placing special heirlooms that you remember from childhood. Embracing your uniqueness can be incorporated into your outside décor as well. Again, think about what colors and shapes light you up.
Spruce up the Outside & Backyard
Another way to fully enjoy your home is to create a backyard oasis. Spruce up the outside and backyard by planting a garden that reflects who you are and your interests. Also, setting up an area for entertaining and having fun could bring a whole new experience to outdoor living. What do you and your family enjoy doing outside together? How could you bring more of that to your outdoor space?
Additionally, consider how you store outdoor equipment and extra items. How's that garage looking lately? If it's overcrowded with the lawnmower and such, it might be time to acquire some new storage options. Many homeowners look at custom wood sheds to not only store items but to add a custom new space for whatever they need, such as a pool house bar shed, or meditation room. When the summer months roll around and you want to be outside you'll be glad you took the time to improve your backyard.
Host Parties & Holidays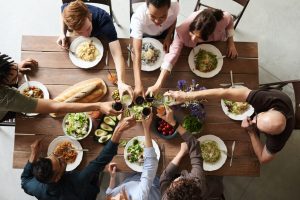 It's one thing to enjoy your home when it's just you and your immediate family, but consider how you could expand that pleasure to others. Opening up your home to your friends and neighbors allows you to show off all that work you've done. I feel fantastic hosting parties and holidays when they have a positive and unforgettable experience hanging out in my space whether it's outside or in. Don't forget to make the most out of it by attending to all the details and bringing on the charm of your cherished items like china, glassware, and other decorative accessories.
Declutter & Get Better Organized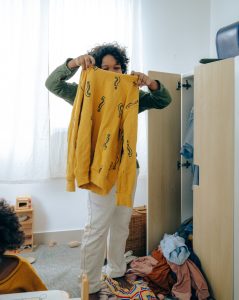 Keeping your home clean and organized is a simple way to feel more positive about it. Clutter has a way of creating tension, stress, and negative thoughts about things that are meant to be loved and cherished. This isn't to say that you have to make it perfect, resembling a show home. On the contrary, you do an organization that suits you and your family. Some people don't mind a little messiness. The point is to create a safe and convenient environment that serves the needs you have.
The goal of organizing can be whatever you want it to be. Perhaps you are considering the addition of Garage Cabinets to store tools and equipment in order to maximize your garage space. Maybe you want to find items more quickly or stop losing them. The big one for me is to clear things that I no longer need or use to feel freer and less burdened by clutter. I enjoy my home more when it's functional and well-organized. Don't forget to get the kids involved in this organizing event!