When it comes time to move on from your present home, there is a set of tasks that need to be done to make the process as smooth and stress-free as possible. Not to mention, you want it to have a fast and efficient move so it doesn't take over your life. Also, consider that packing up your belongings and getting them safely to your new home can create issues if you're not careful. This blog post will discuss four things that can make moving a whole lot easier!
Here are some tips to have a fast and efficient move!
Packing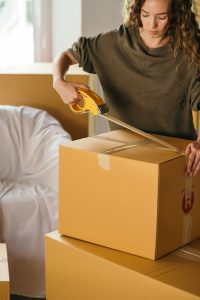 One of the most important (and most tedious) parts of moving is packing up all of your things. I have moved a lot and know that doing it without a plan can backfire. I recommend that you go through your things before the packing starts to weed out what you don't want to take. This helps you to lighten your load (literally) and free yourself of clutter.
On packing day, start early and take your time to lessen the chance of breakage and loss. Use good quality boxes and packing materials, and label everything clearly. This way you know where to find things in your new place. We always pack some boxes that are marked "Open first" and are taken in a separate load for easy access. These boxes hold things like bathroom and kitchen items you need right away. Consider other items you will want first like TV remotes, comfort items, pet needs, etc.
If possible, try to pack one room at a time to keep things straight and prevent overwhelm. And, if you're struggling with energy and time, consider hiring professional packers/movers who can do it for you! Packing can be a pain, but taking the time to do it right will make your move go much smoother.
Hiring Help
If you're not up for packing everything yourself, or if you just need an extra set of hands, hiring some help can be beneficial. Whether it's a professional moving company or just some friends to help you load and unload the truck, having extra help will make your move go much faster and easier. We've hired people just to load and unload when we've moved without a pro moving company. Another thing that you could do is hire move out cleaners to make sure everything is clean and in order at the home/apartment you're leaving. This is especially important if you have paid a deposit or if it needs to be immediately ready for someone else.
Just be sure to do your research before hiring anyone – get recommendations from friends, read online reviews, and get quotes from multiple companies before making your decision. Hiring help can be a great way to take some of the stress out of moving.
Getting a Moving Truck/Van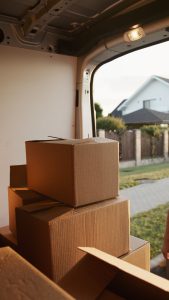 If you're moving a long distance and have a lot of stuff, it's worth considering hiring a moving company. That said, it might be possible to rent a truck and do the work yourself. Several main truck rental companies offer trucks of all sizes to meet your moving needs. Additionally, there are companies like Sydney Ute Van Hire that offer vans by the hour for smaller loads. These options can be a lot cheaper than hiring a professional moving company, and it gives you the flexibility to move at your own pace. Just be sure to pack everything carefully and plan your route, so you don't run into any problems along the way.
Moving trucks can be an excellent option for long-distance moves, but they're not right for everyone. If you're not comfortable driving a large truck or if you're worried about packing everything correctly, it might be better to hire a professional moving company.
Staying Organized
One of the best ways to have a fast and efficient move is to stay organized from the beginning to the end. First, make a list of everything you need to do and pack, and then check things off as you go. This will help you keep track of what needs to be done and make sure nothing gets forgotten. 
It's also a good idea to keep all important documents in one place so you can easily find them when you need them. This includes birth certificates, house documents, insurance papers, and anything that you think you might need. Staying organized during your move will help ensure that everything goes according to plan. Don't leave anything to chance because shit happens!
Moving can be a stressful time, but there are plenty of ways to make it easier on yourself. If you're careful and take the time to plan, your move will be less stressful and maybe even fun if you let it be. One last thing…take breaks! You won't be any good for anyone or anything if you wear yourself out.