As a homeowner, you don't exactly want your home to just feel like a boring box. Most of us would agree that to enjoy your home, adding personal touches, and making improvements is a must. This thought process can start as soon as you move into a new house or into a place that was once occupied by someone else. I know it was for me when we purchased our current home. I also knew I needed to get better at DIY home projects.
We soon discovered that working on our new home takes a lot of skills…some of which, we did not have. Understand, as it did us, it takes a little time to research and hone the actual skills to do home improvement projects safely and efficiently. Here are some of my recommendations to get better at DIY home projects.
Make a Plan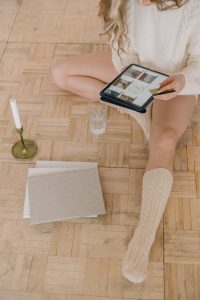 Making a plan is a non-negotiable step in any home improvement project. First, write down what you want to accomplish and how much time and money you have to spend on it. Your plan also needs to include sketches or images of the proposed finished project. These can be primitive to start with because you are in the beginning stages but can be detailed as you move forward.
Once you learn more about your project, you can create a budget and materials list. Additionally, as you move forward, consider whether the project is worth doing yourself or if a professional is needed. Work can also be divided between you, a helper, or a pro.
Remove Your Belongings
With any kind of major home improvement project, whether it's DIY or not, there'll be a lot of work and equipment involved. Your furniture and belongings could hinder you or workers. Try to move what you can to another area or a storage unit. Visit local storage businesses to see what is best for your needs. You can also research how big is a 5×5 storage unit or larger if you have a lot of furnishings to store.
Learn All You Can (Before You Start)
Though there are plenty of benefits to making home improvements yourself, understand that the process can be tricky and reveal some proverbial skeletons in the closet…I couldn't resist! Try not to get prideful when it comes to what you can and cannot do for your home. I recommend that you learn everything you can about each project before you spend money or do any work. This will help you to understand the potential pitfalls, dangers, and costs. That way you can also assess whether the project needs a pro.
Even simple tasks deserve your attention and willingness to understand the proper technique to execute. Whether you need to learn about hanger brackets, paint types, safe cleaners, or landscaping tools, don't underestimate the power of information.
Practice with Someone Experienced 
If you know someone who has done the project before, ask if it's possible to learn from them. Perhaps they would even be willing to help you do your project. You'll get things done quicker and you'll have more fun doing it with a friend or family member. Just make sure you both understand what to expect from each other. In other words, don't expect hard labor to be done for free just because you know them personally. Consider how much work it is and come to a viable agreement.
Take a Course
There are plenty of courses out there for DIY home improvement. Some are even free if you purchase equipment and supplies from major hardware stores. Do some digging around on the Internet for local classes or online ones that have quality reviews. Of course, there are tutorials posted all over the web, but make sure you're getting enough information to do the work the right way. Some local pros might even be willing to consult on your project for a much smaller fee than they would charge to do the work.
There are thousands of ways to go about improving your home, but it takes some time and effort to understand exactly what needs to happen for the best outcome. If you want to get better at DIY home projects, take your time to research all of your options before you start. I say this because I've made plenty of mistakes that cost me money unnecessarily. You'll be happier with the results when you work smartly and with some caution.