It's finally the weekend! You've made it through another long week of work, kids, and all the things…lol. It's now time to relax, right? I know it's easier said than done but hear me out. However, before you do anything, let's make sure you're in the right frame of mind to pamper yourself. Sit down, close your eyes, and breathe more deeply than usual. What thoughts and feelings came up first? I want you to allow those thoughts and feelings instead of resisting them.
Acknowledge everything as though you are listening to your best friend tell her secrets. Don't try to fix, justify, or make excuses for anything…just let it all be. Once you do this, you are ready to relax in a way that will do you some good. Let's discuss ten different ways to pamper yourself after a long week. Some of these methods are easy, and some are a little more challenging, but they all have one thing in common: they have value to your body, mind, and spirit.
Take a Hot bath or Shower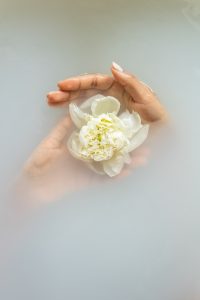 Taking a hot bath or shower is one of the best ways to relax after a busy week. It can literally feel like you're washing away the stress and negativity of the day. Do make this one your own by adjusting the water temp to what you like. It doesn't need to be super hot to go to work on tired muscles. Try adding some essential oils, like lavender or eucalyptus, for even deeper relaxation. Be sure to add special bath additives to your shopping list for a spa-like experience at home.
Get Some Exercise
Exercise routines and staying active throughout the day are both ways to release endorphins which can help reduce stress levels. Go for a walk, run, hike, or find an online yoga class that you enjoy. even just 10 minutes of stretching or jumping jacks can make a big difference! Exercise doesn't need to be a complicated class or pro routine, either. Intentionally moving faster when you clean, do laundry, or play with the kids/pets all add up to more exercise than you think.  
Do Something Fun with Friends and Family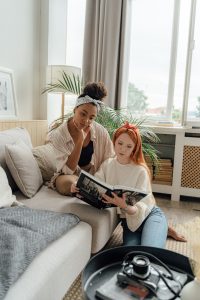 Be sure to set time aside to have some fun. Furthermore, if you can, spend time with the people you love, while having fun! Simply being with people who love you can instantly make you feel better, especially if you've been abused by clients, bosses, or cranky clerks. Sharing quality time with loved ones reminds us of the things that really matter in life. Have dinner with your closest friends or schedule a game night with family members. Doing something fun brings the focus to gratitude and joy. 
Have a Spiritual Practice
Busy women can easily forget to pay attention to their spiritual practices. No worries, it's right where you left it, waiting for you to come back. Mindfulness and meditation are both great ways to relax your mind and body, allowing a deeper spiritual journey. Of course, everyone is different and needs to find what brings peace to their lives. Some other practices are prayer, singing, reading, yoga, gratitude journaling, deep breathing, visualization, or simply focusing on the present moment. These small moments of stillness can definitely help you reset and recharge after a long week.
Get Some Extra Sleep
If you're feeling especially stressed and overwhelmed, try taking an extra hour or two for yourself at night and indulge in some much-needed rest. Sleep is essential for proper brain and nervous system function. Even taking a short nap during the day can help minimize fatigue and burnout. I have to set my alarm to remind me to take naps during the day, otherwise, I'll just keep working. 
Relax Naturally
You don't have to do anything special to relax. Take some time for yourself and just let go: watch a movie, listen to music, read a book, or even take a nap. Taking some time out from the hustle and bustle of everyday life can be incredibly therapeutic. Finding safe, natural ways to relax, such as with herbs and supplements can also help. Hey, if you're game, get on the turf to find cannabis products that meet your needs.
Work on Hobbies
Another great way to pamper yourself after a long week is to do an activity you love. Whether it's playing video games, painting, or cooking, working on your hobbies can bring joy into your life. Feeling proud of yourself also reduces stress levels and gives you a high like none other! 
Spa Day/Hour
Lastly, don't forget to take some time for self-care. Get a massage, manicure/pedicure, or visit the sauna or spa. Even just buying yourself a small treat as a reward for making it through another busy week can help you recharge. Taking care of yourself physically is one of the best ways to pamper yourself after a long day/week!
There are many different ways to pamper yourself and de-stress after a tough week. I recommend having several go-to's on deck that you know work. If you have a plan, it also serves as a high point of your week to look forward to. Happy Pampering, my friends!