So, yeah, my migraine recovery is going fairly well, in the sense that I've hardly had any headaches. However, since I've been out of the hospital, I have acquired a bad chest cold.  I chalk that one up to the havoc wreaked on my immune system by five days of IV steroids, the medical equivalent of robbing Peter to pay Paul. No, it hasn't been a great week, but, nonetheless, I've managed to get some work done and catch up one some reading.
I've been happy to spend a few hours with Jennette Fulda and her quirky account of a quest to find relief from a never ending headache. In her latest book, Chocolate & Vicodin, Jennette dots Is and crosses Ts with unparalleled humor that made my own "headache" situation easier to deal with.  Having a chronic illness truly sucks, but when you find the balance between acceptance and searching for answers, you have a much better chance of not murdering random healthcare professionals or ending your own life, as Fulda explains so well in the laugh-out-loud page turner.
One of the things I found so life-changing about this memoir is its brutal honesty and revelation of a side of illness that most don't ever see, even those of us who are in the "chronic" club. I believe that Jennette is extremely gifted as a writer and could likely do stand up comedy, as long as there were no bright lights, smoke, and loud fans to exacerbate her one headache that has now lasted for over three years.   With a story like that, you'd think a compassionate person (which I am) would feel sorry for her.  Well, I don't.  I admire her.  I relate to her.  I hope she keeps writing great books!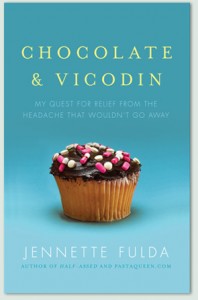 The other thing so intriguing was that she lived in my hometown of Indianapolis (specifically, Broad Ripple) while going through the events depicted in the book. I knew exactly where she was when she described a medical facility or landmark; it made me feel like I was really with her and not just reading about her.  It also made me wish that somehow we'd crossed paths at a doctor's appointment back a couple of years ago.  I could have used a kindred spirit around when I realized I probably wasn't going to find the cure to migraine disease…in this lifetime, anyway.
At the beginning of each chapter she reveals actual comments from fans of her popular blog, Pastaqueen.com, the one that originated during her journey to lose over two hundred pounds. The poignant site has collected not only faithful followers but some really strange opinions about her headache and how to end it.  She encountered well-meaning fans telling her everything from she needed to drink more water to she had a saint possessing her.  I can completely understand how interesting blogging can be, as well as how disturbing when the comments start coming in. And, strangely, I could easily be one of those overzealous commentators, as I've tried some "out there" therapies, including quantum jumping, colon hydrotherapy, and a magnetic mattress, in hopes of winning my own battle with the "tiara of nails," as Jennette calls it.
Chocolate & Vicodin is a enthusiastic thumbs up for anyone who deals with pain, knows someone who deals with pain, or simple wants to read a memoir that tickles your funny bone. A word of caution to those of you who are more laid back:  It's a fast ride and once you start it, you won't want to put it down.  One other thing…make sure to have some chocolate on hand before you curl up in your favorite reading chair with this one.  The power of suggestion works.  No, really…you find yourself wishing you had your own private chocolate factory, Oompa-Loompas and all.
Chocolate & Vicodin: My Quest for Relief from the Headache that Wouldn't Go Away
Be Beautiful-Be Creative-Be Happy!
Jennette Fulda is a freelance web designer, blogger, and the acclaimed author of Half-Assed.  Her inspirational weight-loss story has been featured by NBC's Today, CBS's The Early Show, The Washington Post, Women's Health, Shape, Runner's World, The Globe and Mail, Glamour, Health, the Canadian Broadcasting Corporation, and the Associated Press.  Visit her at JennetteFulda.com.