Probiotics For Your Mouth?
We haven't talked much (if at all) about oral health on WLL, but I was recently introduced to a new product that is considered a breakthrough in oral care.  A marketing rep for Oragenics Inc. sent me some free samples of Evora Plus (The first Probiotics for Complete Oral Care).  I told her I would be happy to try the product and give it an honest review.  After a month, I am completely satisfied with my results.
An Easy Routine
This multi-purpose oral product comes in the form of tiny mints that you allow to dissolve in your mouth after brushing your teeth twice a day.  A simple procedure that I came to look forward to as the tablets have a nice flavor (almost like candy) and are completely natural.  My children have even been using it.
How It Benefited Me
Whiter Teeth – One of the product claims is that it helps to whiten the teeth noticeably after about a month of regular use.  Because I had just done the Crest Advanced Seal Strips on my teeth just a month before, this was not an issue for me.  However, I can say that they seem to be holding their color well even with constant exposure to coffee and tea.
Overcome Sensitivity – I do have one oral problem that I've longed to correct, sensitive teeth and gums.  I usually stick with toothpaste that offers protection against this annoying condition.  Well, I ran out of the Sensodyne and just used the regular stuff as that was all we had.  I noticed the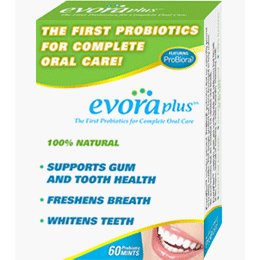 sensitivity come back pretty much immediately.  Here's the interesting part: After only one day of using the Evora Plus my teeth felt as if I was using my Sensodyne – no sensitivity.  For more than a month now, I haven't had to go back to it.  This is reason enough for my to continue to use Evora Plus.
Fresher Breath – Upon waking in the morning, I've noticed that my breath is not as bad and my teeth feel cleaner than usual.  This too is a positive contribution to my oral health.  So, honestly, I recommend that you ladies try it.  At $16.99 for a 30 day supply, I think it's a great investment for better oral health. EvoraPlus Probiotics for Oral Care is available at Amazon.com, CVS, Target, Drugstore.com, and others.  Visit Evoraplus.com for more information and purchase options.  Give it a try and let us know what you think.  Be well-be beautiful.

***Oragenics Inc. is offering two lucky WLL readers a free box of Evora Plus.  All entries must be posted by 11:59 pm (Est. time) November 3, 2009. To enter do any or all of the following:
1.  Leave a relevant comment here about what you would like to change about your oral health.
2.  You can also pick up our RSS feed for an entry.
3.  Follow us on Twitter (Womenslifelink).
4.  Become a fan on Facebook (Womenslifelink).
Make sure to leave separate comments for each entry so I can count them all accurately.
***Women's Life Link, it's owners, authors, associates, commentators, and linked sites do not claim that this product will diagnose, improve, or cure any medical or oral disease or condition.  Please consult with your Dentist before starting any new oral care regimen or if you suspect you have a medical or oral condition.
***Because we are Amazon Associates, if you choose to purchase this product through our link, we will receive a small revenue.  Thank you for supporting Women's Life Link.
Photo By Blackfantastix