Throw It Out There Thursday
(Quick tips for living a happier life)
I've known some women who are innately simple and others who are the polar opposite…complicated.  I, myself, am somewhere in the middle.  I like challenge, but when things get too hard, I tend to drop activities like the proverbial hot potato.  This may confuse some people (like my family), but it suits my personality- the type A that I am.  I started thinking, however, that maybe I should come up with some strategies to prevent "bouncy life syndrome (BLS).
1.  At the first sign of stress, don't go and add more to your already dusty "to do" list.  Listen to your body, emotions, and thoughts; they are telling you to slow down…so slow down.  Stress causes physical problems; including, heart attacks, high blood pressure, depression, anxiety, and even pre-mature aging.
2.  Ask for help even if you don't want to.  Friends, family, and yes, even your kids will help you if you just ask nicely.  No yelling, begging, or threatening.  If you can offer something as incentive, go for it!
3.  Buy everyone in the family the same socks.  Well, at least the ones who wear the same size.  This saves you so much time when the laundry gets to critical mass stage.  You know what I'm talking about.   Laundry piles are enough to send me to the funny farm; so, I ask, why do I always have them?
4.  For God's sake, clean out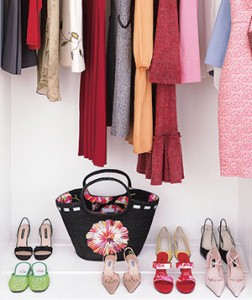 your closet!  You don't need those dresses that are two sizes too small, the five-year-old black pumps that have no heel caps, or the jacket that Aunt Lil gave you for Christmas…yes, that ugly one that you never wear.  If you haven't worn it in over a year, chances are, you never will.  Exceptions to this rule: Vintage pieces, unique treasures, and sentimental garments that you can't give up. 
5.  Declutter your home.  Stuff makes me crazy; I start twitching when I watch those TV shows like Clean House and Hoarders.  I'm what you call the un-pack rat.  When things start piling up in my home, I get tense…I say, as I look over at my pile of magazine clippings, books, and coupons.  Eeeek!  Research shows that when your home is clutter-free you sleep better, are more relaxed, and cognitive ability increases.
6.  Combine trips to the store.  OK, this is something that I am so bad about.  It's in the planning stage that I fail.  Instead of writing out the meal plans and the week's schedule, I wing it…and it usually doesn't fly very well.  Running around every day is not simple; it's hard, wastes gasoline and your precious time.
7.  Give every object in your home a place to live.  The key is making sure that every one understands how important it is to put things away-every time.  I use Real Simple® products to help keep my home organized; the magazine is great too!.
8.  Set some rules.  Again, the key is making sure that every one in the family knows them and understands that consequences will be in order if they break them.  It helps to post them somewhere in the home.  Even if you have no children, you can set some boundaries for yourself, like for spending, chores, etc.
9.  Keep your health products handy where they can be accessed quickly.  I have a small box with three drawers in the kitchen pantry that holds meds, first aid, and pet care products.
10.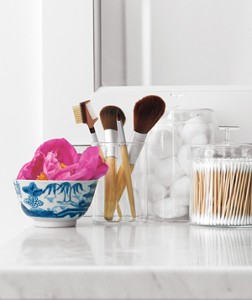 Keep your beauty products together.  The most organized prize goes to my oldest daughter.  She has a medium-sized drawered container in her bathroom where she keeps her beauty products.  It is so easy to find exactly what you are looking for.  It also keeps each cosmetic clean and free of the build up that happens when you just throw them in a small make-up bag…you know, that multi-colored dust that ruins everything.
Well, there you have it, some quick tips to get you closer to the simple life you truly want. 
Now, I need to go do some simplifying of my own.  Be well-be beautiful.
Photo 1 by Omgitshaylay; photo 2 by Bob Heimstra; photo 3 by Jonny Valiant from Realsimple.com