You might have noticed that I'm on a rather organic/all-natural product kick right now.  On my quest for some new personal care products that pass my standards, I discovered Aroma Artisan at Etsy, a company that sells exactly what I was looking for – cold process soaps and unique essential oils with custom fragrances.
Aroma Artisan at Etsy is a division of owner, Tracy Wickland's grassroots company, My Skin Soap Studio.  Since 2001, her business has not only offered a wide variety of delectable soaps and perfumes, butin doing so, supports the use of fair trade and organic ingredients as often as they can manage – a plus for those of you who are Eco and politically conscious.
Eden Perfume
Though I haven't tried the yummy soaps (oddly, my mouth watered as I read the food and plant-derived ingredient lists), I have experienced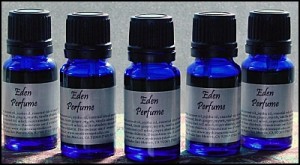 Tracy's Eden perfume.  This subtly sweet fragrance focuses around 4 primary essential oils: Jasmine sambac absolute, sandalwood, fresh ginger and guaiacwood.  With Jasmine and Sandalwood being two of my favorite fragrances, it wasn't hard to fall in love with the well-executed combination.  I actually keep it in my purse for touch ups when I want to take in the heavenly aroma.  Because it is an essential oil based scent, it's not overwhelming like some perfumes can be.
I am also looking forward to trying some of their organic body scrubs that have organic sugar, mango butter, and babassu oil. Just the sound of those ingredients sets a vision into motion of a wonderful soak in the tub, candle light, relaxing CD, and a glass of wine.  Ahhhhh….
Personal Service
Another thing that I just love about purchasing from owner-operated, online companies, such as Tracy's, is the fact that when you deal with the person who actually makes the products, you get personal attention (questions answered) within a short time.  I found Tracy great to work with and will definitely be a long time customer.
Organic Product Giveaway (Over $100 value)
Aroma Artisan has offered a 10 ml (1/3 oz) cobalt glass bottle of Eden Perfume ($40 value) to add to our gift basket giveaway at the end of September (entry deadline September 30).  To enter for a chance to win this fabulous prize package, do any or all of the following:
1.   Leave a comment about which Aroma Artisan at Etsy or My Skin Soap Studio product you would most like to get or any other related topic.
2.  Leave a comment on our recent review of Red Leaf Tea (another product included in the giveaway).
3.  Pick up our RSS feed, follow us on Twitter, or Stumble the article.
Make sure to leave a comment about which things you did, so we can give you the proper entries.  Look for more reviews and chances to enter coming in the next couple of weeks.
My wish list includes the NEW Cocoa Almondine Limited Edition Soap, Turkish Cafe Limited Edition Luxury Soap, and Chai Tea Luxury Soap, and the Orange Fresh Ginger Luxury Organic Sugar Scrub for my bath time repertoire of all-natural products.  Enjoy her site!  Be well-be beautiful.
Photo by Caramel Chokecherry