More Out of Monday:  Beauty Tips
By Jeffrie Ann Hall (Esthetician)
As an Esthetician, I specialize in skincare of the face – the first thing other people notice when they meet you. Want to know what gets noticed second? Your hands. Our hands get more attention than you think. We use our hands in so many ways of which we aren't even conscious. We gesture in anger, excitement, and to add emphasis to nearly everything we say. Our hands convey feelings of love and comfort when we caress or touch a loved one or child.
Daily Abuse
We cook, clean, do projects; such as, crafts, painting, sewing, gardening, and the list goes on.  Hot water, chlorine, and cleaning solutions – all things that affect the skin of your hands.  So, that means our hands can begin to look old and weathered, sometimes even faster than our faces!   Take a look at your hands right now, what are they telling you?
Are they aged and dry?  Do they look older than they should?  Ever heard the saying that you can tell a woman's age by looking at her hands? It's true. Most women don't lavish the same care on their hands that they do on their faces. And they should.
Sun and Environmental Damage
Just like any exposed parts of our bodies, our hands can get abused by extreme environments like windy, cold weather or very dry heat.  And, think about how often you drive. When your hands are on the steering wheel they are exposed to sunlight that is magnified by the glass of your windshield.
Taking Care of Your Hands
Manicures are great for a polished look but are really just the equivalent of applying lipstick and blush to our faces – it's surface.  What about the skin on your hands? After all, it's wonderful to care for your face with great products, protecting it from premature aging, wrinkles and dryness, from the sun and free radicals. We moisturize, use specialized treatments, masques, sunscreen, you name it!  Shouldn't the same care be done for our hands?  Yes.
The Plan
So, how do you keep your hands looking as youthful and fresh as your face? Pretty much the same way you do your face!
Wear gloves – We can put gloves on our hands to protect them from damage caused by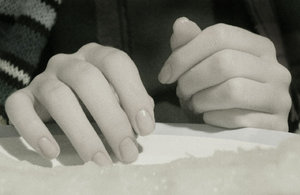 cleaning and other projects as well as from extreme cold weather (you could wear one of those  knit ski caps, I suppose, but you most likely would be mistaken for a bank robber).  But that is only one step in the care for your hands.
Exfoliate – Try exfoliating your hands with the product you may now be using to exfoliate your body. They will be smoother immediately.
Moisturize – Invest in a good hand cream that has an SPF, contains antioxidants like vitamins C, A and B, and good quality moisturizers such as Shea Butter, Hyaluronic Acid, Cocoa Butter, Olive Oil, Jojoba, and Aloe, to name a few. Use it daily. And if you wash your hands frequently (flu season requires that!) reapply that cream.
Reclaim the elasticity – If the skin on your hands is losing elasticity try a product that will restore that, maybe the one you are using on your face.
Lightening – There are products that can lighten dark spots that show up on the hands as well.
Serums – You could also use a facial serum on your hands but that could get pricey and if you select a good hand cream with the above stated ingredients, it shouldn't really be necessary.
Go, go Galvanic! – Yes, you can use the Galvanic Spa (my best anti-aging secret) on your hands!  It will do the same wonderful thing for your hands that it does for your face.
So, with a little extra TLC you can maintain gorgeous, expressive hands that will work hard for you and be wholeheartedly welcomed in a loving or comforting caress!
Photo 1 by Kelebarapictures; photo 2 by Elkapsypunk