All of us have a joyful girl inside…somewhere.  Strangely, the simplest of things can bring her out.  Recently, I had the opportunity to try some new organic body sprays by Joyful Girls Naturals.  I had no idea how they would feel on or how they would smell mingled with my own unique scent.  Well, in addition to the light, pleasing fragrance that I couldn't get enough of, I sort of felt giddy- like a little girl.  Suddenly, I was a "joyful girl"!
Joyful Girl Naturals founder, Shelly Henley, has bridged the gap between products that perform well and those that are healthy.  I have never used a body spray that I enjoyed so much that came with a guarantee that it wasn't going to shut my liver down with parabens, glycols, and sulfates.  The two sprays that I, BTW, use every day now, are the patchouli/sandalwood blend (Harlow) and a citris blend (Shady Grove).
Harlow – This one is sultry and alluring!  I love the spicy undertones and rich fortitude of the patchouli.  I use it every night before bed and when I want to feel especially sexy or strong.
Shady Grove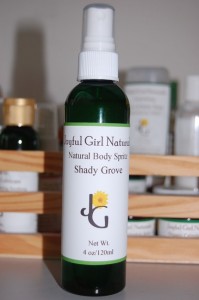 – It's light and airy.  You can use it anytime and anywhere.  I even let my Missy Moo (toddler girl) have a spritz when she wants to do what mommy is doing.  The fresh citris is a pick me up that is like no other!
When you visit the Joyful Girl Naturals site, you will be pleasantly surprised at how many products that Shelly offers at affordable prices.  Her motto is "Health Before Weath".  Providing a all-inclusive website for women to shop for personal care products is obviously her passion – one that she displays in her business and the service that she gives to her customers.
"My goal is to provide effective, natural products that everyone can afford. I have spent many years on development of my products. I do infuse my own oils, and create my own recipes. I only sell my products that are effective for their intended use," says Shelly.
I hope that you all find your way to her site and give one or more of her products a try.  There is something special about her and that which she puts into every drop of body spray, oil, shampoo, and lotion.  I know that I will have a lasting business relationship with her as well as a friendship.  Shelly will be featured in a "Beautiful Woman" interview soon, so please pick up our RSS feed as not to miss this inspiring story.
Giveaway
Joyful Girl Naturals has offered a full-sized body spray for our September giveaway basket.  This prize package filled with the products we have reviewed this month (valued at over $100) will be given away to one lucky reader.  Do any of the following to enter the contest (entry deadline September 30, 2009):
1. Visit Joyful Girl Naturals and come back here to share which product you would most love to have.
2.  Follow Women's Life Link on Twitter.
3.  Pick up our RSS Feed.
4.  Stumble this article.
5.  Comment on any of the other reviews we did this month:  Red Leaf Tea, Aroma Artisan, Brainscan.
Photo by Grinch7