Hurry, Hurry, Hurry!
I wanted to share a few last minute ideas with you concerning holiday shopping for your man.  First, the Natural Man soap that Rose of Sharon Acres sent for my husband to try arrived.  Normally, he uses "whatever" is available and doesn't think much about it.  When I asked him to pay attention to how his skin felt, it was somewhat of a new experience.  Well, he has used the Sensuous Man variety for several days and loves the clean feeling it gave him.  I actually tried it myself and found it to be pleasantly scented even though it was designed for a man.  The rich lather left my skin feeling smooth and moisturized.  It would be a nice item to put in a sensual gift basket for the holidays or anytime!
Here's one for all the men (or boys) in your house.  The Homedics QRM-400H Therapist Select Quad-Roller Massaging Cushion with Heat is a hit with my son.  He begged for one every time we visited a store that had them on display.  Here's the bonus; you can use it, too!  The relaxing experience is no chincy massage either.  It gets deep enough to release tense muscles and soothe inflammation- good maintenance for between chiropractor appointments.  For what you would pay for two spa massages, the portable, lightweight cushion delivers years of back pain relief and comforting relaxation.
If you are budget minded, as most people are these days, you can give your man the gift of personal care for a great price with a gift certificate from your local cosmetology school.  I have a daughter attending Honors BeautyCollege  right now, so we've been able to get all kinds of services for a third of the cost (sometimes less) of those elsewhere.  He will appreciate a professional massage, hair cut, and scalp treatment as a thanks for all his hard work.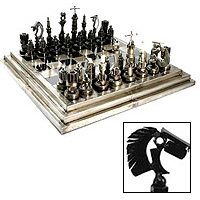 Stimulate his mind with this edgy chess set by Novica.  If he doesn't know how to play, make it an activity you can learn together in the coming year.  Beware…they can get competitive with this one.
Happy last minute shopping, ladies!  Please share any gift ideas you have for men.  Be well-be beautiful.
***Because we are Amazon Associates, if you choose to purchase the back massager through the link provided, we will receive a small revenue.  Women's Life Link has not received monetary compensation for this article.  It is an honest review of products we have used or discovered recently. 
Photo by Suki-Kitti-Love