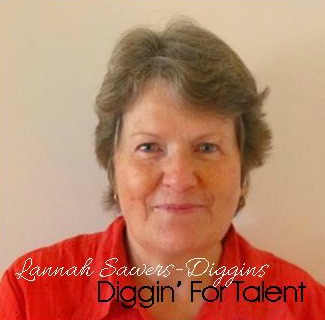 ANOTHER AMAZING YOUNG SINGER MAKING HER MARK
Introducing Kim Tillman
How lucky am I?  Getting into contact with these amazingly talented people – all ages, many different nationalities, different genders – the list is endless –  and most have one very important message to the world – believe in yourself.  They have all been compared with other well established celebrities world wide – Kim Tillman is no exception – she has only been compared with Beyonce and Adele.  Having been fortunate enough to hear a sample of her music – yup, both fit.
Now, while Kim describes her sisters as gorgeous, apparently she wasn't – not at school.  A bit hard to believe when you look at her images, but she describes herself as having been:  "Awkward, with buck teeth, bad acne, hair that just wouldn't do what it should do." Then she adds:  "Everyone would walk up to my sisters and compliment them but ignore me like I wasn't even standing there."  Kim says it made her unbelievably shy.  It also seems that the way she looked at the world and the way she thinks about things are totally different from most.  She felt she was not a people person and found she could not necessarily accept some things that others automatically did.  Thus she admits being alone was easier– less social pressure that way.
In many bullying situations, the victim's scholastic and extra-curricular activities can be affected very negatively.  But, interestingly, this did not apply to Kim.  She does mention that her parents placed a huge emphasis on education and its sheer importance.  It seems that bad grades simply were not accepted at home – full stop.  So, despite her experiences at school and the fact that she felt she didn't fit in, it seemed some of Kim's talent must have already been coming to the fore as she does say that "despite the fact that I didn't feel like I fit in, no-one really ever knew that was how I felt.'" She was able to hide it – which is quite a feat in itself.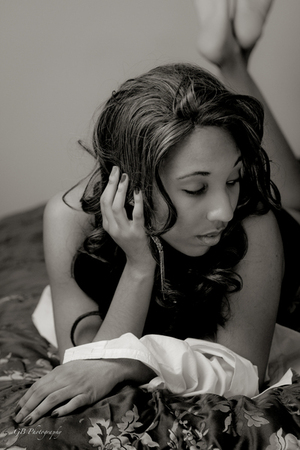 She admits that she did get attention – but unlike her sisters, it was because she was smart.  She feels that school was actually not really hard for her – all she had to do was read, memorize (lucky for her good memory) and then write.  And as she has always enjoyed doing puzzles, problems were easy to solve.  Her attitude toward school was simply something she had no control over anyway.  Added to that was the fact she wanted to attend college – but the 'way out' was by scholarship – and in order to win one, good grades were essential.  That simple – and she just managed to block the rest out.
Kim also feels that a lot more does need to be done about bullying – in schools, the home, the workplace – everywhere.  As she correctly says it can be a lot for the person to deal with on the receiving end but the person on the giving end can be hurt too.  And hurt begets hurt.  When asked who she feels is more at fault with school bullying, she admits that is really tough to say.  Ultimately, Kim does feel it is on the parents to take responsibility for their child and show them right and wrong.  But she also adds:  "But we live in a society where that is not always the case and some parents are stretched to their limits just trying to make sure the child has food to eat.  From there I believe that it is on the school officials to not only listen but pay attention to students." 
Kim continues on to mention one fact that is just so important – but does appear to be a universal problem with or for victims:  "Most importantly, if the child doesn't say anything, no one knows and no one can help."  It seems that this was the case with Kim as it is with far too many victims world wide.  As it did come as a complete surprise to her parents when she told them (as an adult) that she hated school because she was constantly picked on.  She says:  "I never said anything about it because I was afraid that if I did it would only get worse."  And this is such a huge problem – it does take a mighty brave child to report her or his nightmare to any adult, whether it be a member of school staff, parents, whomever.  For fear of repercussions, copy-catting and just making the whole thing worse.
 "I don't think that pointing fault or blame will help the issue. Letting children know that it is not okay and that they should talk to someone about it will make it better."
Which is what all victims are encouraged to do, world wide – but, again, it does take a very brave victim to speak up at all.  In Kim's case she feels blessed that she had her grandmother, Ella, to tell everything to and to support her in her 'strangeness'.  Not every child has that or knows they have that.
Sadly Ella died in 2007, when Kim was 19.  This completely stopped her from performing and getting onstage because her confidence had taken a real knock, without the support of that grandmother.  In fact, she turned back to science simply because it did mean she could stay away from people.  However, Ella had been her granddaughter's first fan and supporter in Kim's early years and then became a driving force behind her push for success.  When asked whether the memory of that amazing woman helps to bring her up again when she is down, Kim is adamant in her response:  "ABSOLUTELY!!!  Whenever I feel like I just can't go anymore, I hear her voice in my head and all the things she used to say to me growing up when I was just fed up with everything.  I hear her voice even when I am feeling down and there has not been a single thing that she ever said to me that I don't fully use every single day.  She was the one who told me I would do all of this and while, at the time I looked at her like she was crazy, everything she ever told me has come true."
How lucky Kim was to have had this amazing woman.    "The day after I decided to fully pursue music as a career. I had a dream that she was telling me everything would be okay and that I would be fine.  From that day forward, no-one on this planet could tell me that I wasn't made for music," she continues.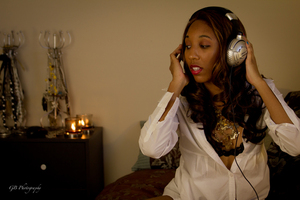 When asked about her writing and singing and the fact that she uses bad experiences to help others through her talents, she had this to say:  "I love to write about what I see around me.  As a matter of fact, it is the only thing I write about.  I was writing it down because, for me, when I put it on paper, it is out of my head and I don't think any more."  In other words it is very therapeutic for her and that couldn't be more positive.   "I was singing because it was what I heard in my head.  I didn't notice until I was older that I was writing universal themes or that my music was helping others.  But once I found that out it made other people feel better too, I wanted to do it even more.  I love making people smile and I love to have a good time," she says.
 Kim was the grand old age of three when she began singing – she mentions she was just singing Whitney Houston's 'I Will Always Love You' back the way she heard it and this impressed her two older sisters.  She didn't truly fall in love with singing until she was in 5th grade and joined the Charlotte Children's Choir and started playing the violin.  "The combination of those two songs exposed me to all types of music, most of which I had never heard before.  I started learning how different music and voices sounded and found that I could sing songs with different effects." And, luckily for us, from then on, she was hooked.
And one of the biggies – how was she discovered?  Well, it seems Kim was out with some friends to a bar where a band was playing.  A little alcohol under her belt gave Kim the nerve to approach this band and actually ask if she could sing with them.  They agreed.  Doug Davis (co-owner of FlyTrap Productions) was the lead in the band and asked Kim to contact him, after handing her his card.  From there it snowballed.  "I did a group recording, and he asked me to do a solo.  I was so nervous and it showed all in my voice!  From there, he invited me to do a cover show,  'Vagabond Saint Society Presents Woodstock'.  I sang 'Purple Haze' by Jimi Hendrix and it was the first time since 2007 that I had performed and gotten on stage.  I loved every second and that was the moment I knew that I had to get back to it.  I asked Doug to help me figure everything out and he was so patient with me.  From there, 'Heaven' and 'Contrast' were borne (tracks five and six on 'Inception').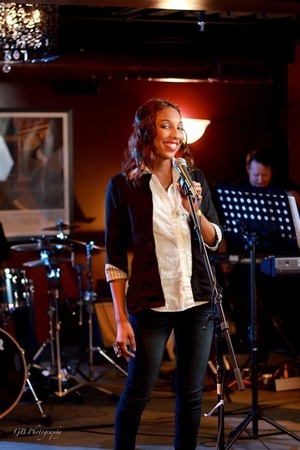 As mentioned earlier, Kim has been compared with Beyonce and Adele. When asked how she felt about that, naturally she answered that she was flattered.  Who wouldn't be!  She also adds, "In my head, I sound nothing like them at all!  Whenever I sing a song back, I am usually singing it back to match what I hear in my ear.  The first time someone told me I sounded exactly like Adele, I thought they were trying to be funny and ignored it.  The first time someone told me I had a Beyonce-esque-stage presence, I looked at them  'You mean me???'."  She feels she didn't do anything particularly special on stage – just continued doing what she always does when singing and dancing.  But she does admit that, as flattering as such comments are, she still doesn't believe it.
Well, she certainly has some  hopes and aspirations for the future– including the desire to form her own company one day, based on her album 'Chronicles of a Rising Star'.   She would like to use that platform to encourage others to think outside the box.   "In my mind, I am not the only rising star, hence the reason it is 'Chronicles of A Rising Star'.  I hope to be able to use this as a way to tell other people's stories." She mentions that she has encountered some awesome people with amazing stories and it is her hope that COARS will be a way for these stories to be seen by the world.  Kim adds that she has recently moved home and is "super excited" about making music her full time career now – and that it is something she has wanted to do since the ripe old age of eight!
Finally, her parting words to the world:  "Thanks for the love and support of the dream!"
Story Source:  Kim Tillman
(as translated by Lannah Sawers-Diggins)
Images:    Kim Tillman
                        Kim's 'Inception'
Follow Kim on Facebook
Follow Kim on Twitter