I feel bad for not getting this post up sooner in the day.  It's been a busy mommy day today, so what can I say; I had to take care of them first.  At times I feel like this blog is a baby – the crying, needy, hunger, girl that it is.  I do the best I can to feed it regularly.  It's a good thing that it's not like one of those Tamagotchis (does anyone remember those silly little electronic pets?) that you had to feed, water, play with, and bathe in a timely manner or it would die.  I remember babysitting one for my daughter while she was at school.  It wasn't good.  I forgot all about it a mere few hours and, of course, it bit the dust.
Wellness Website
OK, have no idea why I got off on that tangent.  Anyway, I have a couple things for you today (or this evening).  First, I just got involved with a health and wellness website called Wellsphere.com.  With thousands of posts and articles from health bloggers like me, you can find just about anything you're looking for on many topics.  They classified me as a "Top Health Blogger", so I was thrilled to get a cool badge for the site and the credibility that comes with it.  Please check out what they have to offer and enjoy the community they've created there.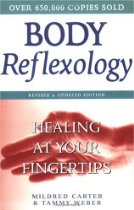 Book of the Week
This week's featured book is Body Reflexology: Healing at Your Fingertips
.  One of my all time favorite books for overall health and wellness.  I have had numerous cases of self-healing from applying the techniques in Midred Carter's book.  The complementary/alternative therapy of Reflexology has been practiced for centuries as a way to keep harmonious balance throughout body and mind.  I have never found a more user-friendly book on the therapy and completely recommend it for beginners and pros alike.  Currently, I practice foot and hand reflexology on myself nearly every day for pain relief and general health.
No matter where you are with your health and wellness, you can always make improvements.  That's what this site is really all about…change and self-improvement.  I want you to utilize the resources that are here for you.  If you have any questions concerning your health, wellness, body, mind, and spirit, please forward them via the contact page or in the comments section below.  Be well-be beautiful.
***The content of this post is not intended to replace professional advice from your health care provider. Women's Life Link, it's authors, associates, commentators, or linked sites do not claim that any information will diagnose, treat, improve, or cure any disease or condition. ***Because we are Amazon Associates, should you choose to plunk around on the above link and somehow purchase the book through our link, we will receive some pocket change. Thank you for supporting Women's Life Link.