Have you ever dreamed of having your own clothing line or designing fashion? Fashion tends to be one of the biggest industries for entrepreneurial women, and it's pretty easy to see why. Fashion is one of the strongest outlets for expressing yourself, as it dives into your creative side. Additionally, the historical aspect runs deep as well. While at one point in time, creating a fashion line might have seemed next to impossible, for the most part, it's fairly achievable now. So, what do you need to consider before starting up this dreamy business? Well, other than start-up costs, there are actually some major steps to starting a clothing line. Let's take a look at several of them.
Choose a Niche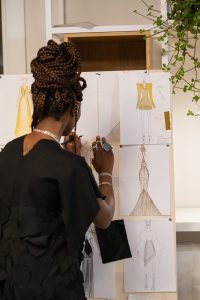 A major mistake that people make in this industry is vagueness. Remember, clothing is meant to reflect an individual. It's stronger when it reflects who they are, their interest, personal style, budget, aesthetics, etc. For the most part, clothing is a way to put yourself out there without having to say anything at all. Figure out who your target audience is and what they like, whether it's a specific color palette, sustainability, ethical practice beliefs, style, or other feature. Understanding your customer persona can help you plan everything from your branding to your marketing strategy. 
Once you choose a niche, include your logo, website design, and other elements that create a cohesive brand identity. While not always, more people choose brands that align with their beliefs. How can you do that? Think long and hard about your ideal person, their beliefs, their aesthetics, and so on. Clothing reflects beliefs, political identity, aesthetics, and so on. Clothing is powerful and provides us with a brilliant opportunity to connect, express, and speak.
Choose a Memorable Name and Logo
Choosing a business name can be as simple as putting your name out there. If that isn't your plan, think about how a word or phrase can get attention while reflecting something about your brand. Some business owners choose quirky/catchy names because they're memorable. For a new fashion business, creative brands are popular and can speak volumes about the owner and what they make. Additionally, when starting a clothing line, consider if you will put your logo on your clothes. This can affect the design and overall impact. Remember, it's a subtle addition that some customers are willing to pay for. It can honestly be as easy as getting a heat transfer vinyl machine and putting it on clothes or tote bags.
Think of both designer and high-street brands; you have H&M, Zara, Gucci, Dior, American Eagle, Supreme, Louis Vuitton, Abercrombie, and the list goes on. Chances are, you're also familiar with their logos.  Creating a memorable logo is an important part of starting a business, especially for your own fashion line. It's a great way to brand your products and stand out. It can also help you get noticed by customers faster.
Build an Online Presence
It can be tough getting your line out there, but nowadays, many people find the brands they love and new ones through online platforms like TikTok and Instagram. I recommend showing up on several platforms in the beginning. You can narrow this down once you have data and results to analyze. This is one of the best ways to get your clothing line in front of your target audience. Even if you're starting a luxury brand, you'll want to do online marketing. 
Starting a clothing line is a doable dream, but you will have to take multiple steps if you want success. Having talent is just the beginning of what could be a wonderful and lucrative career. Do plenty of research and give yourself time to grow as a designer and businesswoman.