The Perfect Afternoon Drink
Do you find yourself needing an afternoon pick-me-up most days? Do you avoid coffee because the caffeine would keep you awake at night, or say no to soda because you're trying to cut back?
How about brewing a cup of tea?

Not only does tea have less caffeine than coffee (40mg as compared to 85mg, according to The American Dietetic Association), it's also good for your health. Containing high levels of antioxidants, tea has been found in various studies to help protect the body from harmful free radical cells. And different teas can have different benefits. Mint tea is thought to sooth the digestive tract, while green tea has been said to help lower cholesterol and speed up the calorie-burning process.
Soul-Soothing 
In addition to being good for the body, enjoying a cup of tea in the afternoon can also be good for the soul. Since brewed tea, as opposed to instant or bottled, has been found to have the most health benefits, taking the time to make a fresh cup can create just the break you need in your busy day. While you're waiting for the water to heat, and the tea to steep, you can take a moment to relax and slow down- a good time for deep-breathing.
Regular or caffeine-free, there are many flavors of tea to choose from. How about a cup of cinnamon tea on a chilly autumn afternoon? Or- one of my favorites—pomegranate flavored tea over ice on a hot summer day? From chocolate chip to almond, the flavors are almost endless.
What's the best way to stock up? It depends what you're looking for. While you can find many flavors and brands at even your local grocery store, your health food store will likely have more of a variety, including herbal teas. And if you're looking for convenience, you can buy tea online at a variety of places. As a note, with all teas, check the label or with your doctor to see if there are any specifications you should follow, such as avoiding certain kinds of teas while pregnant or nursing.
Great flavors, wonderful aromas, relaxing moments–tea may be just the perfect afternoon beverage. In the summer, it can refresh you. In the winter, it can warm you. And-hot or cold-it can invigorate you by creating a moment of rest that can give you the soothing pick-me-up you need.
Our new web friend, Genny, has graciously offered this article as a guest author.  She currently administrates My Cup 2 Yours blog and is involved in other writing projects on and off the web.  Please visit her site for more of Genny's inspiring posts.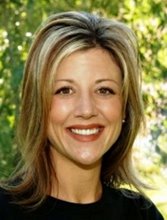 I'm Genny, a far-from-perfect mom who is the first to admit that after years of parenting, I'm still learning. I love being encouraged by the stories and experiences of other moms, and I especially love being able to give some of that encouragement back.
My writing has been published in magazines and on Web sites, and I write regularly for 5MinutesforFaith. I also review books for the Sacramento Book Review and am an Assistant Regional Advisor for the Society of Children's Book Writers and Illustrators. If you have a minute to stop by my Web site, you can find links to some of my recent writings over there.
Photo by Ahermin